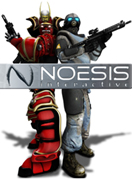 Noesis Interactive recently contacted us and kindly offered to sponsor our mapping contest by providing some of their training modules as additional prizes!
Noesis Interactive is the premier developer of training materials for game modders and indie-developers, multi-disciplinary artists within fields such as: game design, programming, 3D and 2D art, machinima, UI design and web development. Working with leading game studios and software developers such as Valve Corporation, Avid Technology, Inc., and Autodesk, Inc., Noesis actively expands the knowledge and creativity of its user base preparing them for industry careers or independent production. The Valve Store has been selling Noesis' products as official Source SDK training DVDs for a long time now.
Noesis is offering contest winners their choice of three downloadable training modules for first place, two for second place, and one for third place! They'll also be giving us a hand with judging entries. Check their site for a full list of available modules. Though most focus on Valve's Source engine, some of the skills taught would apply to all types of game development.
So the full list of prizes is now:
1st: $70 USD -OR- Up to $70 USD worth of Steam gifts, plus 3 Noesis training modules of your choice
2nd: $50 USD -OR- Up to $50 USD worth of Steam gifts, plus 2 Noesis training modules of your choice
3rd: $35 USD -OR- Up to $35 USD worth of Steam gifts, plus 1 Noesis training module of your choice
As well as an official Sven Co-op T-shirt for each of the three Grand Prize winners, the chance to have your map included with the mod, etc. Since the training modules are worth up to $50 each, this brings the total prize pool for the contest up to over US$500.00 !
Remember to check out the full contest details and rules if you haven't already! As before, the final deadline for all entries is the 9th of September, 2009. Best of luck to everyone working on a map for the contest!