ASLAV is an eight-wheeled amphibious armoured vehicle designed for reconnaissance and surveillance missions. Australia has deployed ASLAVs in theatres in East Timor, Iraq and Afghanistan.
The ASLAVs are fitted with an electric turret, enhanced drive train, improved thermal optics, and integrated laser range finder. Selected deployed vehicles are also fitted with Remote Weapon Stations. These enhancements, together with run flat tyres, small arms resistant armour, internal spall protection, a counter Improvised Explosive Device suite and a fire suppression system, provide a battle-ready platform which optimises crew and passenger survivability.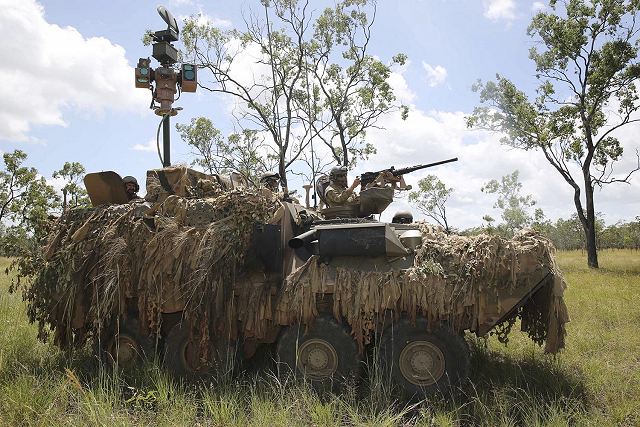 The versatility of the ASLAV has been further increased by the use of non-permanent Mission Role Installation Kits. The kits allow the generation of several variants from a single ASLAV hull design. This is a unique Australian Defence Force (ADF) capability, with much of the design and development work undertaken in Australia.
The current variants of the ASLAV include the Reconnaissance, Personnel Carrier, Command, Surveillance, Ambulance, Fitter and Recovery vehicles.
The ASLAV capability is being supplemented with nine advanced gunnery simulators known as crew procedural trainers. The simulators significantly reduce the cost of training ASLAV crews and maintaining their combat readiness.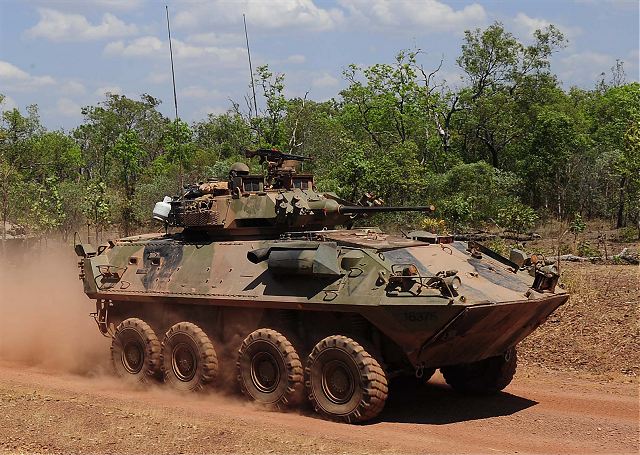 ASLAVs have been delivered in six variants: reconnaissance, personnel carrier, command, ambulance, surveillance, fitters and recovery. ASLAV-25 reconnaissance is a three-man reconnaissance vehicle armed with an M242 dual-feed 25mm Bushmaster cannon and two 7.62mm MAG58 machine guns. ASLAV-PC is a personnel carrier armed with a .50-calibre machine gun and capable of carrying seven troops. ASLAV-C is a command vehicle equipped with modern communication equipment and radio masts, mapboard and stowage compartments.ASLAV-S is a surveillance vehicle equipped with a thermal imager, a laser range finder and a day television camera. ASLAV-A, an ambulance variant, carries medical equipment and litter stations. It can accommodate three lying patients or six sitting.