UPDATE #2 (RELEASE!!!)
Levels
LEVEL 4
A new level has been added! This level is intended to be hard, with more mechanics the difficulty of the game could get harder, but with the current state of the game, this is pretty much at terminal difficult-ocity(?). Anyways, it features two of the expanding kill zones this time, so the pressure is on to squeeze through to the end with all the keys!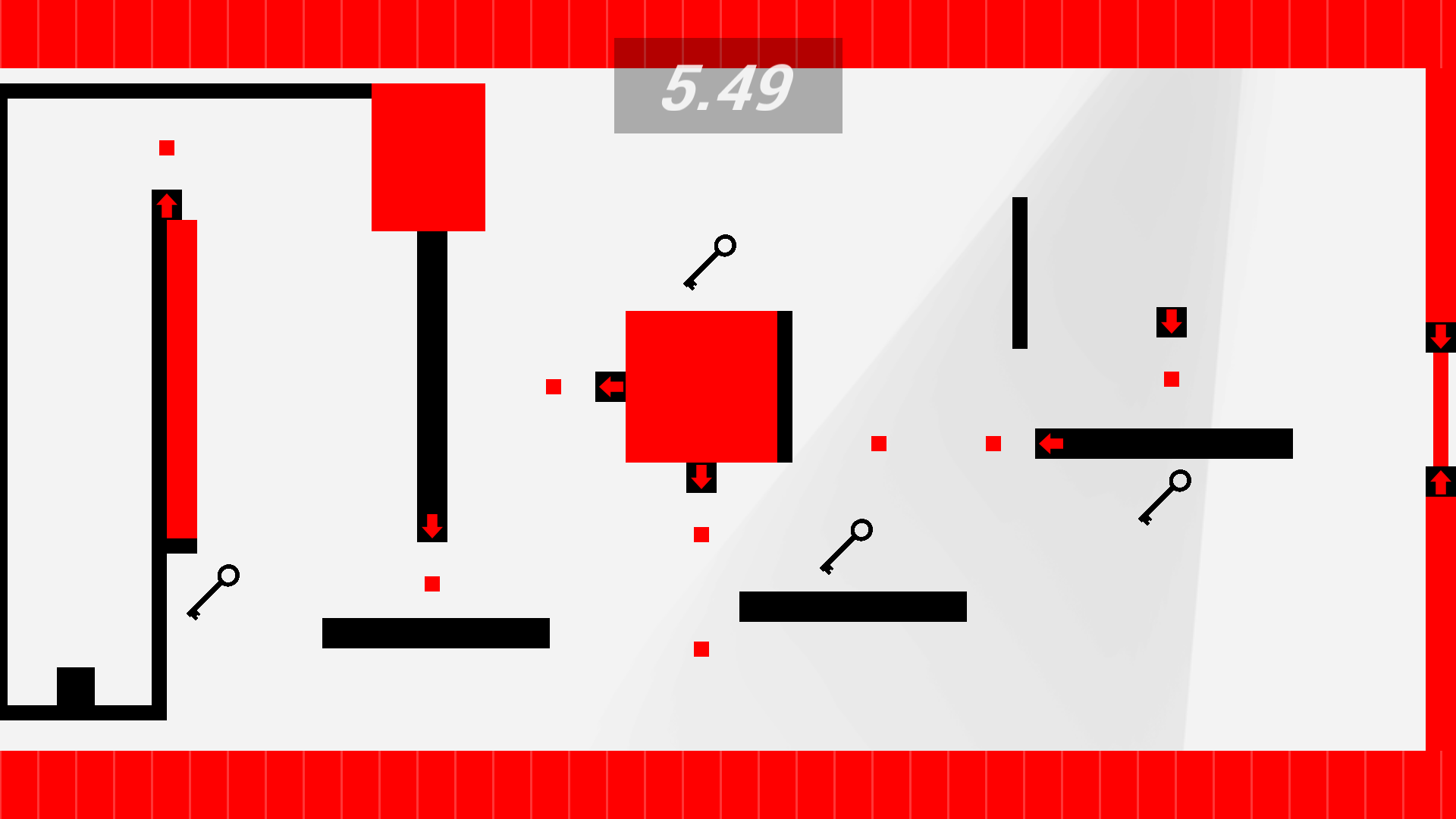 WALL AT SPAWN
In level 1, after watching some playtests, I noticed some players got frustrated with not being able to use the wall to the right of spawn as they would be stopped by the gun at the top of it, so the wall has been made thicker to run flush with the turret.
CONTROLS IN LEVEL
I've added brief graphics at the beginning of the first level to make sure the player knows the controls, the rest of the actual mechanics do not need explaining like this.
TIMES
After some playtest observing, I got some data for how long it took people to complete levels, I used this and the averages to work out the best time limits for each level.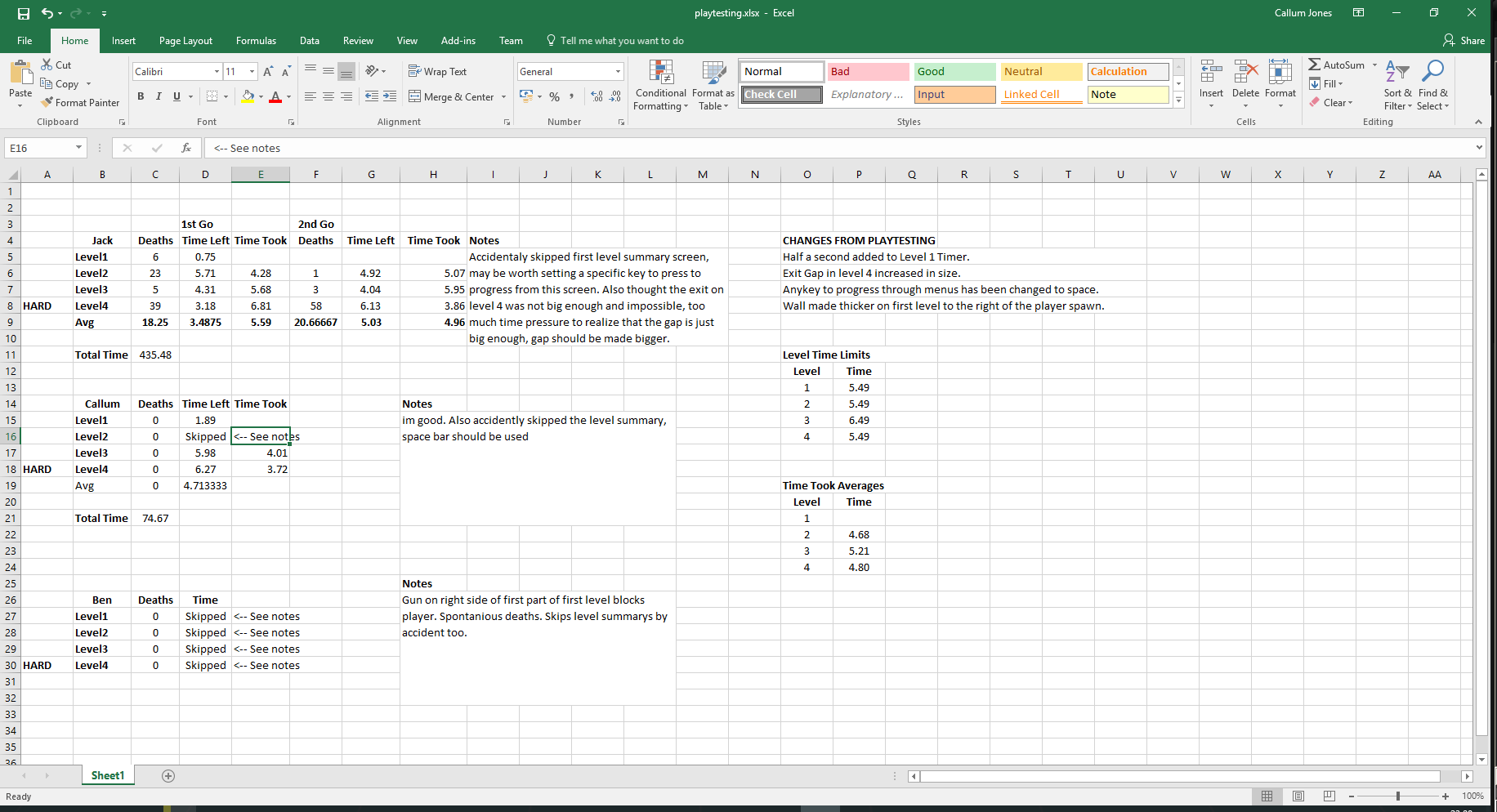 PRESS ANY KEY
After a load of accidently skipping through menus, I finally got to changing the 'press any key' to 'press space', so players only skip a menu when they want to.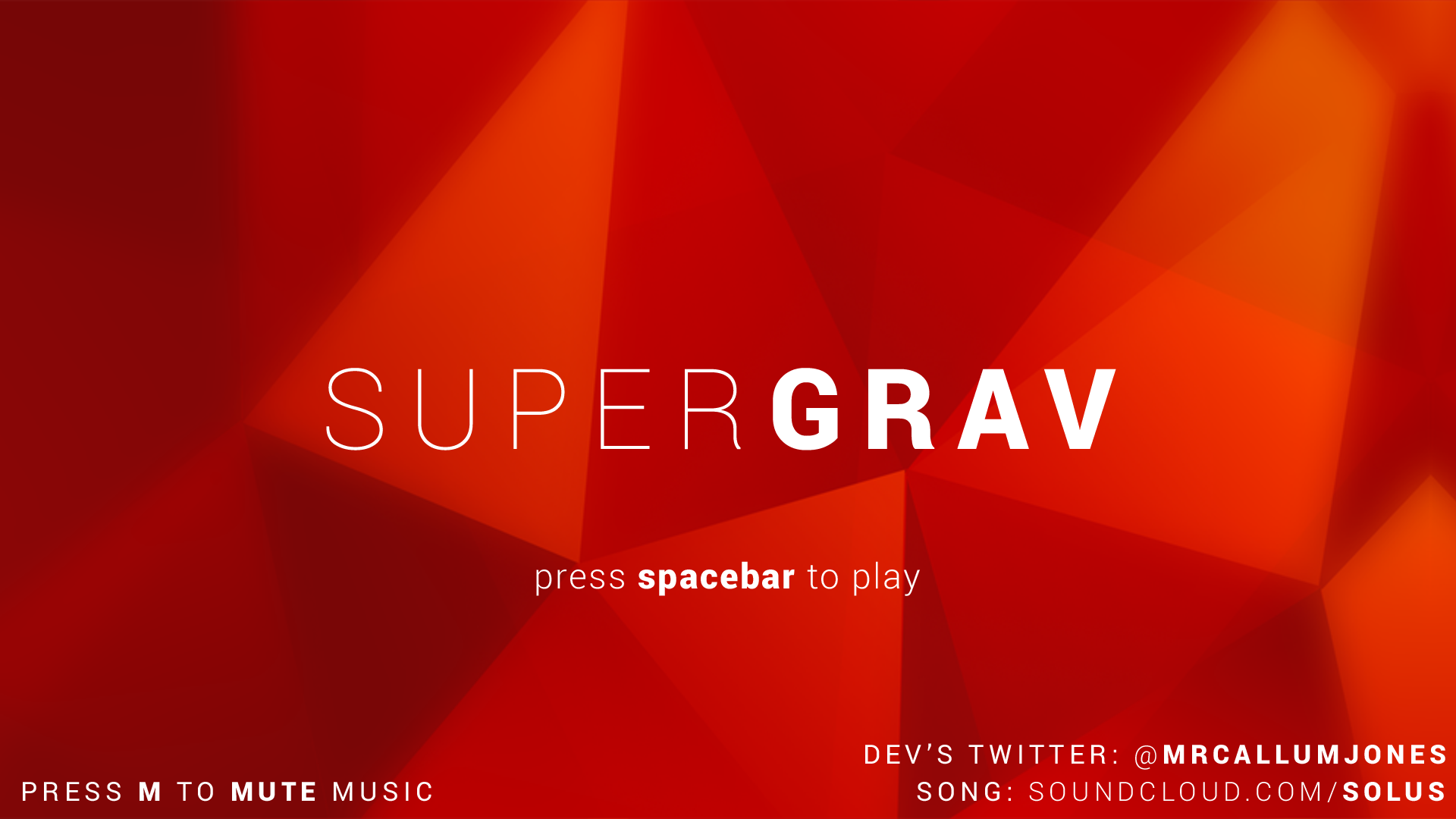 Sound
MUSIC
A good friend of mine, Solus (soundcloud.com/solus) whipped up the backing track for the game, so thanks to him. It loops continuously and can be muted at any time with the M key, I didn't have time for an audio slider or a settings/pause menu at all, so this was the best compromise for those who don't want to listen to it.
SOUND EFFECTS
I manage to grab some decent royalty free sounds from opengameart.org and manipulated them until they were satisfying enough for me. I can't stress enough that I'm really not a sound designer, nor an artist for that matter, so don't shout at me for mediocracy.
SUPERGRAV
Yup, you may not notice with the backing music but it is SUPERGRAV being said, not SUPERHOT, it took me ages (I really wanted to do it lol), so I thought I would commend my efforts in writing.
Menus
LEVEL SUMMARY
So now when you finish a level you get a lovely summary screen which rubs in your face how badly you did with a death counter and time remaining. This wasn't really something I put in for the player to start with, it was to help with testing and gathering data for the level timers, but I left it in anyway :).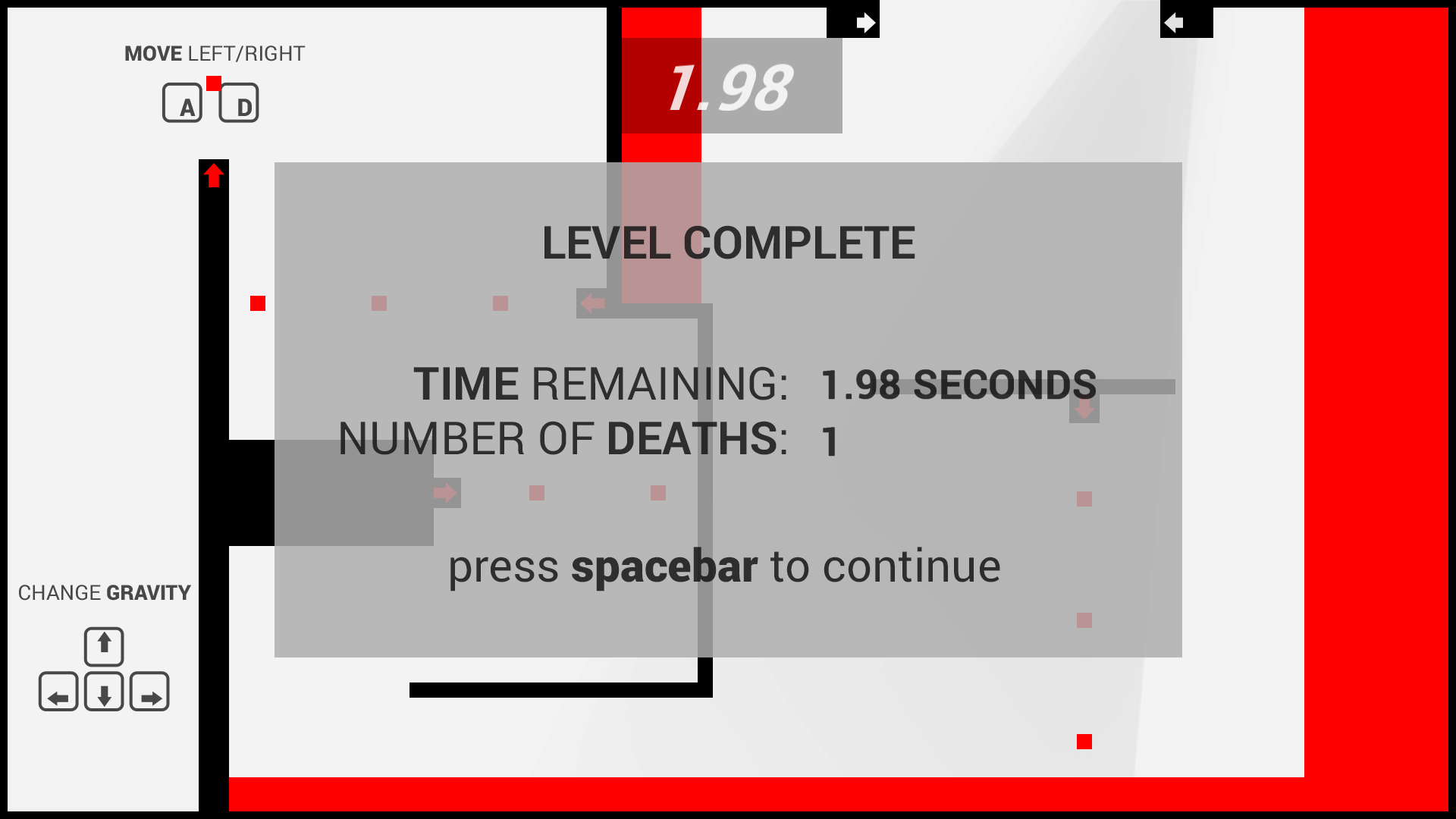 MINOR STUFF
Also, Solus credits for the song have been added to the title and end screens. A button sign for muting the song is also now on the title screen.
Potential
SUPERGRAV has turned out to be awesome (in my opinion, obviously) and I've got so many ideas for how it could be taken further. All of the previously mention problems have (mostly) been dealt with, too.

ART STYLE
I'm no artist, that may be obvious, but I've created a mockup of how I'd like to take more inspiration from SUPERHOT. I'll let the image speak for itself:
LEVELS
There needs to be a lot more of them. More specifically, levels that are more organised and have specific sections of levels dedicated to teaching and challenging specific mechanics, mixing them up and increasing the difficulty as the player progresses, this is something quite difficult to do with only 4 levels.

Alllsoooo, I want a level selector, and some proper menus (including a pause menu and appropriate settings). I high score system would be great, as a focus of this game is having the player want to be either competitive with themselves, or their friends.

Thankyou, now download it! :)