Hello Everyone.
Welcome to Super Zombie Desperation indiedb site where we will be uploading material of the game up to the game release. For those what are thinking, WTF is Super Zombie Desperation, here is a brief story of how the game came to be.
In 2012 we launched the game "Zombie Desperation" for android devices. The game was a marketing test, we had never developed or launched a game on our own. Strangely, it became more than a marketing test, it became a successful hit, with more than one million downloads across all the internet, proposals from publishers, the graphics were highly praised for the bloody gory style and many other positive things. However there were many players that felt the game-play was extremely simple and felt disappointed, they expected something more. We also felt that the game could be extremely improved in many ways, specially the game-play.
Finally, between being sandwiched with our game projects and daily life jobs, we are working on bringing SUPER ZOMBIE DESPERATION to your mobile devices. The is being developed like Zombie Desperation should have been, with a storyline, much more weapons and enemies, boss fights, voice acting, but more importantly classic joystick controllers instead of the old touch to kill ones.
We are aiming to bring you a small horror story driven experience to your mobile devices before moving on with our other projects.
For those that have not played the first game, we encourage you to do so. You can download the game for Android or iOS devices from the links below. By playing them you also contribute to pay the development of our other games such as Slaughter Maze and to enrich the Super Zombie Desperation experience.
Google Play download
AppStore download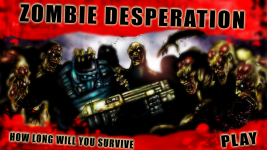 As always. Thanks for reading.