First things first, Super Sec Soccer is now on Steam Greenlight which feels super exciting! It's kinda like sending your kid to one of those beauty pageants I guess. You're kinda worried they'll be harshly judged, but you think they're super and you want 'm to win.
Anyway, check out the page and vote if you like what you see: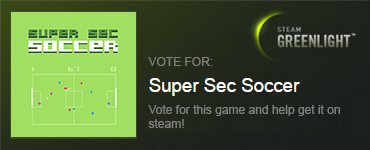 Lets play!
Besides all that, I've been sending a preview build of my game to lets-players, and a couple of 'm have already uploaded a video. It's super strange and wonderful to see your game being played by someone when you're not standing next to them, telling them how things are supposed to work. So far so good, people seem to enjoy it!
Check out 2 of the lets play videos below: