We just got through a big UI overhaul.
The launch screen! There's an in-game exit button for quitting the game while in full screen on Win32. To the left of it is the settings page. The news button pings our website for updates so we have a way to let people know about updates. Modes lets you configure the new difficulty settings we are adding, and change game mode. Play or clicking on the big animated button in the middle brings you to song select.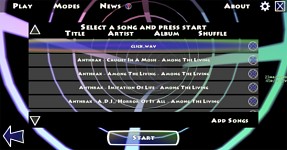 The song select was the biggest amount of work. "Add songs" brings up a file dialog, and you can now add a whole directory at once. The Title/Artist/Album/Shuffle buttons are for sorting the list. The list is now a scroll panel that supports mousewheel or click and drag.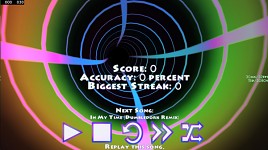 The end screen now has buttons for navigating like a music player. From left to right are play next, exit to menu, replay same song, skip next song, and toggle shuffle. We want to add more detail to the stats displayed.