Today I released a new piece of concept art for Subnet on Twitter, and to my pleasant surprise, many of you favourited and re-tweeted it. I've been sitting on this piece for a while now, and we have a few more pieces to release over the next few months. Here it is: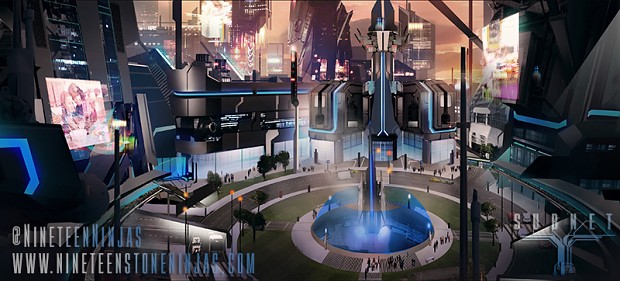 This has been extrapolated from the white-box of the demo level, which you can compare below: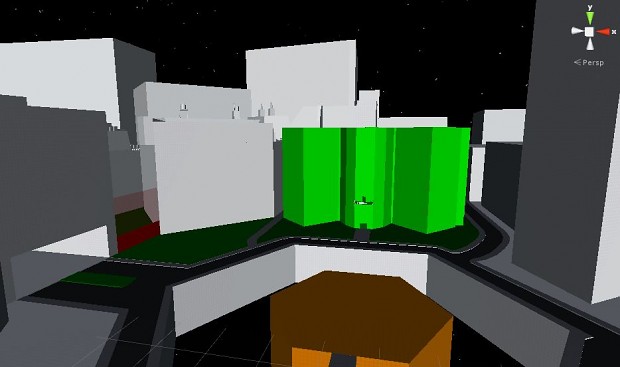 As you can see, we have a long way to go, but at least we have something to start with now. It shows what we're aiming to achieve with the general look and feel of The Crust area of Subnet's universe - high-tech, crisp and clean, with an English twist. Of course, this is concept art, so it doesn't fully represent how the final level will look, but we're hoping to get as close to this as possible. I imagine we will need to fill up a fair amount of space in the middle, but we'll get to that when it's important.
In other news, some of you may have noticed the lack of updates recently. This has been mainly due to real life getting in the way for most of us on the team, and we can only apologise for that. Things have been happening in the background, though; concept art, a bit of modelling, bug fixes, tweaking, UI work, some more level design and some planning. I've also been keeping the Subnet project up to date – mainly by updating asset packages and upgrading Unity to take advantage of the most recent fixes and new features of the engine. Unity 5 beta was also released a few months ago, though I've avoided updating Subnet to use it as I know there will be a vast number of breaking changes, not to mention that I would want to rewrite a lot of the code to take advantage of even more of the new features – which is something I'd like to avoid at this advanced stage of development. I also imagine a few of the asset packages I'm using would break too, so basically there's more work in upgrading than we're willing to do for the time being.
More recently we've been in the process of taking stock of our current position, and after a few discussions we've decided to cut down the rather large demo we've been working on into a smaller chunk, so that we can get it out to you guys quicker for some feedback. The main issue is the size of the level; there's a lot of work involved in creating bespoke assets for games, and we don't have that much resource available to us at the moment. So, the new demo we have decided on will be taken from the end of the originally planned level; it will still show off all of the game's mechanics - you'll be able to hack, use stealth and will be able to use parkour to escape over a rooftop scene that I'm currently working on in order to reach the end of the level. Realistically this means that the demo will now be around 30 minutes long and will be a little more linear than I was hoping for, but it will still allow players to see everything we have planned for the game.
Below is a quick screenshot of the rooftop chase scene I've mentioned - again, this is a "white box" and we'll be producing concept art in the coming months: