Hello eveybody!
Once every two weeks i will upload a video that shows of a unit and all the abilitys that unit might have!
---
This weeks unit is:
The "Submachine gun squad"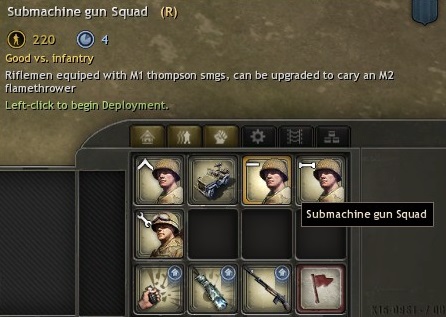 They are your basic anti infantry squad, their tommy guns will rip up infantry in seconds and when upgraded to cary flamethrowers their anti infantry power is unimaginable!
They are built from the barracks for 220 manpower and take up 4 population and take 28 seconds to built, one soldier has 80 hitpoints. They can not built defences or gain acces to grenades, sticky bombs and the BAR assault rifle.
planned changes:
textures i will try to make them but i cant promise anything.
the video shows the squad fighting and upgrading to a flamethrower unit:
leave comments and for future updates you should 'track' this mod ^_^