So this was a busy month for me with work projects and so on, but i'm still doing a lot of work on the game to reach goals and prepare first playable beta.
The whole project is moving at a good pace. Now the game is for sure more than just a platform, it's an hybrid of platform and run/shoot game, as there will be a lot more enemies & challenges in the final version.
Also considering a two players co-op mode later on.
L5 Boss Challenge WIP AI
Below is a short video to document my progress on Boss AI for Level 5.
Combo of Behavior designer / Mecanim & Playmaker. Still need to add the hit animation on the boss, more weapons/attack scenario but i'm almost there. Also in the final version the boss will be : idle / patrol / seek & attack 1 or attack 2 / be hit / detect if player in view or if noise (player footsteps).
New GUI
The old gui was not matching anymore with my idea and everything was too big. So everything was redesigned smaller and in corners so there is now more space for the game without compromising too much readability.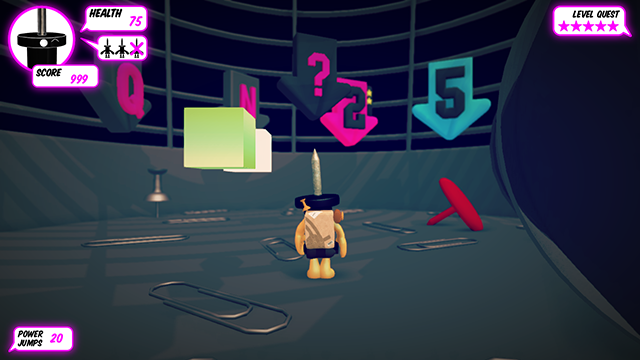 WIP Level 6 partA
Work in progress video of Level 6 game mechanics concept. "Popcorn world" or something like this.
You will have to hit the targets to trigger bridges and rocks then fight ranged small enemies, access second part of the level then fight final boss. So far, no pickups, collectibles or enemies in the level yet (and no audio) as this was just to see if the concept was working (and old UI sorry).
BETA
I'm working at the moment on the boss AI of level 4, so i'm expecting to release a closed beta end of june (5 levels). Because i will show a lot of things, i will probably go for a closed beta with download link attached to each beta tester email (need to check what is good, any suggestions or tip welcome).