THE UEMEU TEAM PAYS HOMAGE TO STUDIO GHIBLI
VERSION 0.04.0. DRAGONFLY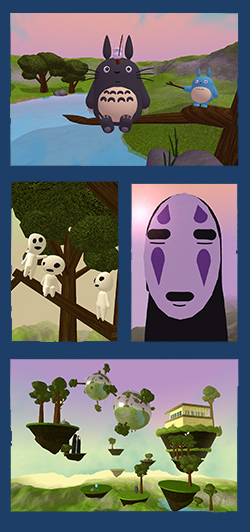 The team's fourth Uemeu play session was inspired by
the films of Studio Ghibli, a theme selected by last
week's play session winner, Jon Bailey.
As usual, the theme was announced at Thursday's
meeting and all team members had one hour to create
a scene or character from a Studio Ghibli film. The stage
was set by Rachel with floating platforms over rolling green hills and crowned with a delicate pastel sky.
Version 0.04.0 Dragonfly saw improvements to the
notification system, new tutorial features and the
beginnings of a gadget manager. The team agreed that
we still need some improvements to the object
selection system, which are slated to roll out in 0.05.0.
The builds produced for this session were truly inspired-
from a tiny, adorable Ponyo to the quietly ominous
No-Face, everyone chose a unique film to create our
best mulitplayer scene to date.
You can see video here: Bit.ly
We're all looking forward to next week's session and the
release of version 0.05.0 Earwig. That's right. Earwig.
We're also making strides in getting the message out
about Uemeu- check out our developer blogs at
Blog.uemeu.com.
Thanks for reading!