Hello everyone!
StrikeForce Kitty is a PC arcade platformer with RPG elements, where the player controls a team of four cats saving their kingdom from the fox army that is storming the capital of the Cat Kingdom.

The game's main feature is the suits that the player receives for victories over the foxes. The suits make the characters stronger and give them abilities that open new ways of completing the levels. Each suit is a reference to pop culture: movies, games, comics, anime, cartoons. In addition, you can pump the cats up by training them in the gym, making them stronger, faster and more resilient.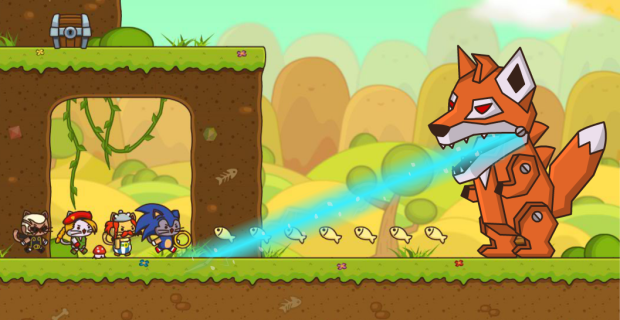 Each level is about finding the optimal path. With new abilities, you can discover new ways of completing the level and find rarer suits. Searching for these paths often becomes a puzzle of its own.
The general concept of the game will be elaborated and smoothed out. Most of the content is ready. We plan to complete development this fall.
Friends who are not indifferent to our cats, you can vote on Steam Greenlight, or help us in the development by financing a project in IndieGoGo.

We are an independent studio consisting of three guys who work remotely from each other. Creating games is our hobby. It is our love, passion and favorite pastime.