Hey everyone,
Just thought I'd post a quick message letting you know we've updated the website!
I've been working on this for a few weeks, a couple of different versions and ideas, decided on this one because it was relatively similar to what we had in the first place but still uniquely different and new. You could call the old version of the site StrengthInArms.com BETA, we've hit Version 1.0, hope you like it!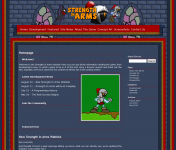 Changes from BETA:
Latest posts and updates now displayed on the homepage. Making it easier to see when new things have been posted.
Featured post on homepage. Displays a post of significant importance on the homepage so visitors don't have to navigate to the news to hear about it.
Various layout and style changes.
New theme based on the games overworld.
Changes to come:
Strength in Arms Community (not online yet, coming very soon though)
New content for most pages
Find a new home for the trailers/teasers
That's all for now, I'll be back at some point during the next few days to talk about HUD's, or Menu's, or Music, or Sound Effects, or a bit of everything.