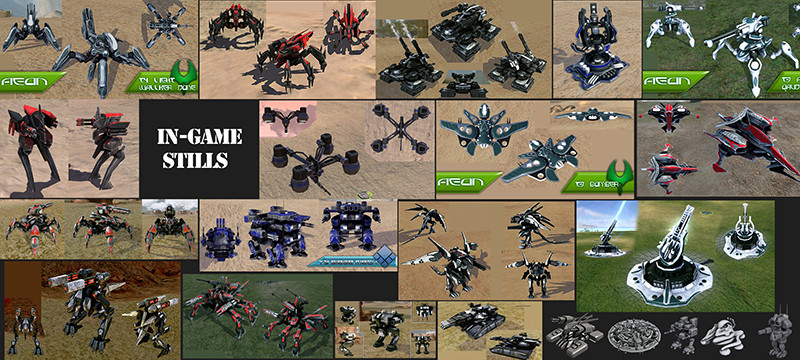 I created this post so that people can discuss and elaborate on the strategy dynamics of Revamp mod, and what I mean about strategy dynamics, dynamics in a strategy game are basically the elements of the game that the player cannot change, but can manipulate to his own benefits, some eamples given:
the rules of engagement
the options available (sea, air, ground)
the weaknesses and the advantages of each faction
economy manipulation
zoning
etc.
There threethings that I will state in my initial post, but feel free to elaborate on any aspect of the dynamics mentioned above...
UEF not having enough tanks
The first thing that I wanted to discuss is the reason of me and Avitus developing more mechs than tanks for UEF. There is no specific reason on that other than the love we have both for mechs! But besides this there are plenty of treaded experimentals for UEF, and to mention some:
Fatboy

Juggernaut
Riot tank (not sure about the name)
As far as the actual T1-T2-T3 units, there are many treaded units spread out the tiers, with one more coming in T3 (cannot say more at the moment other than it is really powerful but needs micro), and even some wheeled vehicles at T1 and T2...
UEF AA Experimental
Someone stated in the "summary" page that he was worried when a Cybran player is going to get 15 Soulrippers, he wont be able to fight back having UEF... My thoughts on that are the following:
"If a player spends time (and resources) to build 15 soul rippers, the other player will have the equivalent of 4000 simple fighters...trust me through my experience even against heavy turtler players, nobody has the patience and time to risk building that many experimentals of ONE TYPE....by the time you have your first one (or if you truly are good second one) the other player will harass you and force you to spend resources towards something else..."
which brings me to the last thing that I wanted to state, and is indirectly related to the second part...
Rock-Paper-Scissors Dynamics
I don't really see the whole point of eliminating advantages and disadvantages in factions, advantages should be applicable every here and there inside an RTS...for example the UEF has a clear advantage in its navy, this doesn't make the rest factions navies useless, you just have to put more effort on outsmarting your enemy, while you use YOUR advantages like ground forces with Aeon...I hate rock-paper-scissor RTSs like Starcraft were all factions are equal on all points...There should be weaknesses, and a good strategist could and should surpass them with his advantages....