We've got a new discoverable note to show you guys today. I don't think we've spoken about the in-game notes very much, although we've shown them off a little bit.The game tells the story through in-game cutscenes, dialogue and the notes you can find. These notes can play a vital role in the story, or just be of interest - there is a combination of essential and non-essential documents. We've tried to keep most or all of the essential story in the cutscenes and dialogue, so that players won't need to read heavily if they don't want to. The notes split into two categories, since a large number of them are related thematically, as loose pages of a book. You can see how notes are stored and displayed here:
So that's the system! The new note took a while to put together (with lots of interruptions). It will appear in the later half of the game, but I'm not gonna say if its essential or just interesting. Here's the progression:
After deciding what the note should be (in this case, a security ID) and what details needed to be displayed, we start with a rough draft. In Proof, all the notes are heavily inspired by real world objects, so there is usually a while spent on research. Neither of our team are especially accomplished artists, so reference images are invaluable to creating notes that look and feel real. We then deviate from these as fit.
The first draft covers the necessary material but looks a little too artificial and doesn't read well. At this point, we might leave the note in the game as is and circle back to improve it later. In this case, we moved straight to improving the draft image. This step involves a lot of trial and error.
Once we decided on the font choice and moved the design around a bit, it come to adding details. The solid backdrop was a little simple, and the card was too 2D. We put a simple watermark in, and added a dark border to give a little depth. Again, reference images or objects (my driver's license) are useful when something doesn't look quite right or real, but you can't put your finger on why.
Finally, we added a little gloss to the image as if it was laminated, and a couple of stains (which tie into where you find it) to bring the whole note together.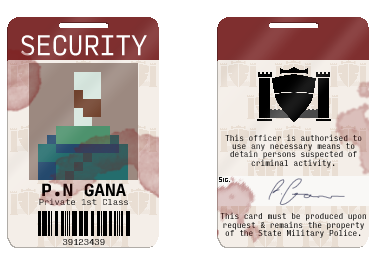 Click on any of the images for a larger version. There were a few more steps going back and forth between us with minor changes and adjustments, and you can view the whole album here (https://imgur.com/a/MhXr3#0).
There is a similar process with each of the in-game notes, currently there are a few dozen, and we're adding more all the time. Be sure to follow @vivavolt on twitter for regular updates!