In the past few days our Disciples Of The Storm kickstarter has raised $2,019 in backing since launch and earned the Kickstarter staff pick selection, Storm Isle Productions wants to thank those who have stepped forward in the first few days of our Kickstarter's launch and shown full support in backing us.
Today we have the first update and we are ready to unveil of the new shrine building that we have been working on. Currently on our kickstarter page we had posted an early concept showing some of the designs we had been batting around for the new building and since have formalized the design and got the building modeled and textured.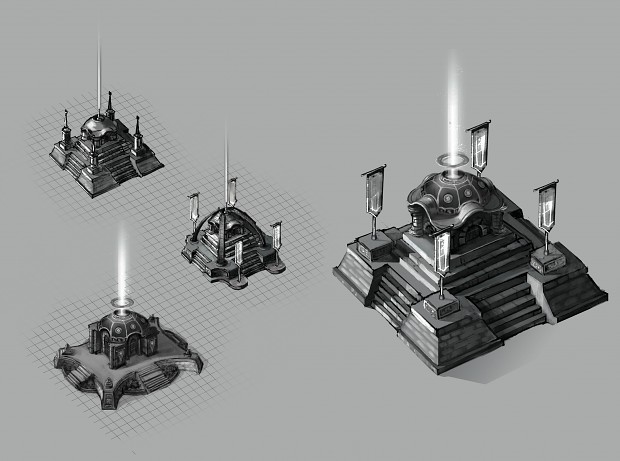 While we produced three early designs the first three were overly complicated in nature, so we took the best elements from each of the three initial designs that we liked and that we felt fit the most to create the one draft concept that our team at polywick worked from to produce the initial working design.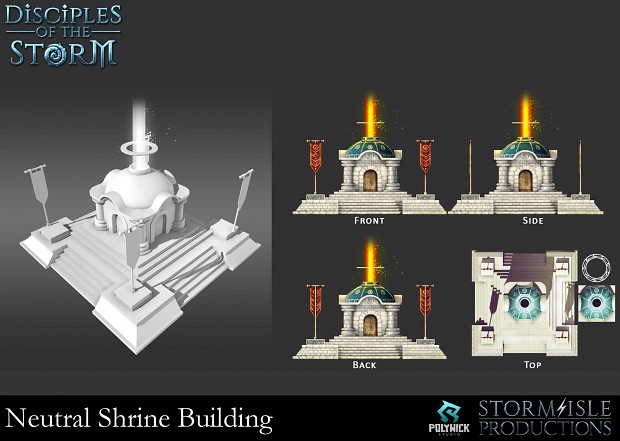 What is the Shrine building?
The Shrine building is a critical building that acts not only as a method of securing an unclaimed island under your control, but also as a drop point for resource collectors. The structure also provides production bolts that shoot out and travel to structures that are waiting to be constructed when placed near a shrine saving time since productions bolts don't have to travel from ones home islands Temple.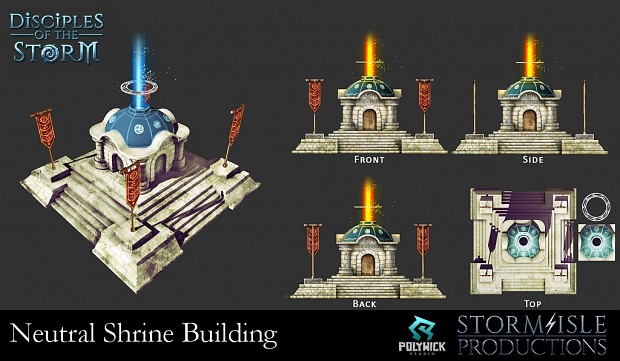 In doing the design for the new building we wanted a design that was not directly linked to any Tempest in particular but is a neutral building and influenced by the people of the game word in design, as such wanted a building that, while imposing could be realistic and organically constructed like other structures of the Tempest and still have a feel of a building linked to religion of the people as a shrine that is an extension of ones temple.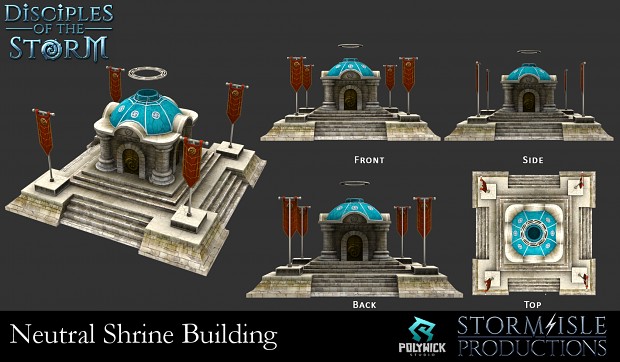 Another element was we wanted to make it visually clear where ones territory is and to clearly mark this even at a distance using a beacon of light that rises from the roof of the shrine once constructed.
Currently the new model is in the asset pipeline for implementing in a build of DOTS and we hope to showcase the model soon in coming video's
Again we want to thank the early backers for stepping forwards and helping to back Disciples Of The Storm and helping us to reach our first 2k in the first two days.
Our next update will be covering the Rain factions new Ice Golem resource collecting unit.
Please help support our kickstarter