Posted in Textual Content | Apr 2, 2013 | by Kilian Rei­senegger
There are many dif­fe­rent ways to tell a story in games. Some­ti­mes the player only gets a vague impres­sion of the story and the world, expe­ri­en­cing the game wit­hout any addi­tio­nal infor­ma­tion. At other times the story forms an inte­gral part of the game. Even though it is quite unusual for a game of our genre, it was clear from the begin­ning that the story of our main cha­rac­ter shall be fully told, instead of just making it a frame story.
Of course we had to start by com­ing up with a story in the first place, which requi­red quite a lot of time. We just weren't con­tent with a plain-Jane story, but wan­ted to create a grip­ping nar­ra­tive arc, which would allow the player to immerse him­self in the young man's world and toge­ther learn to under­stand it.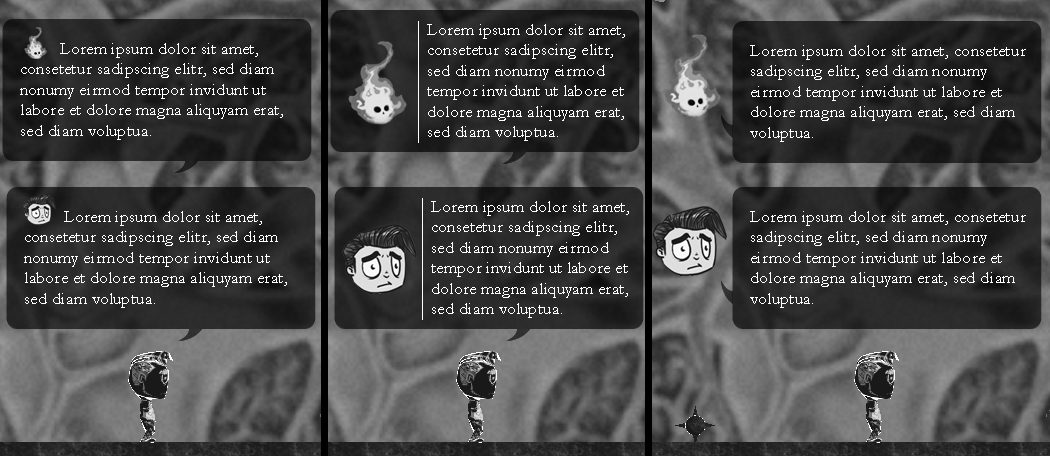 Then of course we got to the ques­tion, in what way the story should best be told to con­vey it to the player. As you can see in the image above, we star­ted thin­king about this quite early, and crea­ted first designs. We ended up imple­men­ting the one in the cen­ter. After some tes­ting, this pro­ved to be unsa­tis­fac­tory howe­ver, the rea­son being that the pas­sa­ges were shown during game­play to dyna­mi­cally create a con­nec­tion bet­ween the young man and the Irr­licht. But as you can ima­gine, only very few play­ers actually stop­ped to read the dia­logs while being in the middle of some jump'n'run section.
We reached the con­clu­sion that the story could not be told this way, since the player would most likely miss it. So the next logi­cal step was to find out what other pos­si­bi­li­ties there were. The solu­tion we are cur­rently working on is the syn­chro­niza­tion of the dia­logs. In this way we can tell all story lines at any desi­red point in time, wit­hout inter­rupt­ing the game­play. Howe­ver, since we wish to be pre­sent on an inter­na­tio­nal mar­ket and the syn­chro­niza­tion in mul­ti­ple lan­gua­ges is a lot of work, we have sett­led for recor­ding speech in English only. We think that optio­nal sub­tit­les are a satis­fac­tory com­pro­mise to become multilingual.
A lot still remains to be tes­ted in this area, and what type of sto­ry­tel­ling will greet you in the final game might still sur­prise you.