So I am moving over the next month or so. As such I figured I should let you guys know what has been going on since it has been a month since I posted something.
There has been a lot of discussion about things that need to be changed about GRTS and improved. People have cited everything from the ui still being difficult to the fact that I mislabeled the rgm 79[g] as having a 120mm. Well I have been listening but stuff like a new ui is going to take a bit. Even though work is coming slow I do not want you to think I ignore your feedback. It is quite the opposite.
---
Some thoughts as of late are the following:

---
Team color is getting removed:
Your health bars will be team colored and always visible on enemy units. This is also being done in the interest of another planned feature and because I think it looks silly. I want zaku1s to be a proper color, char's gelgoog should not have splashes of color, it is char's gelgoog!
Federation is getting an airpower boost: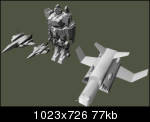 (ez-8 inserted for scale and because I love the model)
Pictured are:
Saberfish
- a capable anti-air fighter, will have a missile barrage special where it will fire it's 12 missiles at 1 target!
Tincod
- an extremely fragile yet powerful AA unit.
Don Escargot
- No, I didn't make the name up. It is a torpedo bomber. Should help the federation players defend against the zeon amphibs.
I have been doing assorted other models for scenery in the maps and will be doing a LOT more code work when I return and continue refining GRTS. I know news has been slow lately and it will be slow for the next month but I wanted to tell you guys what is going on.
Oh hey if anyone out there is a modeler... I could always use the help of a decent low poly guy... just putting that out there...