The release of Stendhal 1.16: Lil' Snowflake starts the winter season.
Weather effects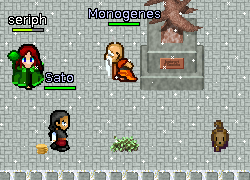 For the first time in Stendhal history, it is actually snowing in Semos City. You can watch the snowflakes fall peacefully while you listen to music. The release title Lil' snowflake is a reference to a German carol called "Schneeflöckchen, Weißröckchen, wann kommst Du geschneit?" In English: "Lil' Snowflake, Lil' White Skirt, When will you snow?"
But be careful, high up in the mountains, the snow is not falling peacefully at all. There is a snowstorm going full speed.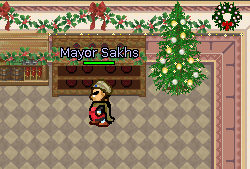 Christmas decorations
It is much better to stay in Semos city, where it is safe. You can enjoy the Christmas decorations, consisting of colorful trees, lights and other creative ideas. There are even snowball items for you to play with.
Let's hope that Santa will make it in time through the snowstorm.
Quests
A hungry reindeer with a very shiny nose has been spotted nearby. And although he emphasizes that he has no influence on Santa, it might be a good idea to feed him with some reindeer moss.
About Stendhal
Stendhal is a fun and friendly 2D multiplayer online roleplaying game with and old-school feeling. It is completely free and open source (client, server, everything). You can meet hundreds of NPCs, who will ask you to protect land or people from danger, feed the hungry, heal the sick, make someone happy, solve a puzzle, play a game or simply lend a hand. You can fight scary monsters or explore the world. Stendhal was awarded Project of the Month by SourceForge as part of the Arianne project in March 2010.