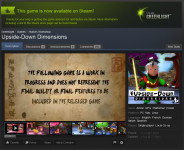 It has been a while since we have updated the status for the game, but a lot of things have happened in the meanwhile, being the most important that we were able to have Upside-Down Dimensions greenlit at Steam within a couple of weeks after having activated it.
We believe that we have a great game in our hands, and we thought that we will eventually be able to get the game approved, but we were not expecting such a positive feedback by the community that welcomed the game with a lot of energy.
So what now? We are making everything read to keep the rock rolling, or better, to rock'n'roll to new milestones that will take us to have the game published mid 2015.
We are currently working on a new trailer, redesigning some pitfalls of the design that were pointed out in some comments of Steam community, and improving a couple of aspects of the game that we think needs improvement, plus the definition of a couple of additional elements that we will be briefing the community very soon ....
So stay tuned, as the upcoming weeks will be vibrant.