ZombiesRus5 here with a quick update on the mod.
First I'd like to say thanks to those that have contributed to the mod: models, testing, string text, or provided feedback on this site. The help and feedback is greatly appreciated.
This is the first mod I've ever attempted and prior to this project had never touched a 3d modeling program let alone considered I'd be able to do any of this. While I know my personal models and textures are not professional quality, I'm pretty happy with the look of the mod and the progress I'm making.
What is planned for the mod?
Sins of the Fallen will include 6 new races. For Sins of the Fallen, the races are Nephilim, Plague and Alliance. For Sins of the Fallen: Transhumans, the races are Rogue Traders, Archailect and Hypercorps (substitued for Uplifted).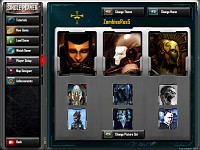 The Sins of the Fallen: Transhumans mod has become an expansion focusing on 3 transhuman based factions originating from Earth. While the original Sins of the Fallen contained much more fantasy based creations of fallen angels and demons also originating from Earth.
The main focus for this mod is to provide races with unique models, research trees and gameplay elements balanced with the original 3 races that enhance the world of Sins. This means currently the core gameplay does not change with this mod (though I may tweak this some down).
Each race now (excluding alliance) has a feature page to check out the new models or to add feedback.
Other items I'm considering down the road:
Integrating Bailknights graphic effects with the new races
Adding additional planet types and sizes (See Cosmos Ad Infinitum mod)
Adding alien graveyards (similar to SinsPlus ship graveyards, but containing capturable alien ships). Already have some cool models for this.
Converting Orbital Cannons (Super Weapons) to second StarBase type
How will future releases work?
This one I'm really mulling over. As you can see from this screen shot my development environment is both complicated and simple at the same time. Each race is playable by itself or can be bridged together making for a high degree of flexibility.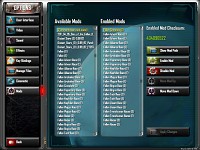 My preference for everyone would be to release a merged version of the mod that can be enabled standalone. This however, would mean uploading a minimum of six different mods between Entrenchment and Diplomacy (Fallen, Transhumans, All races) which is not something I'm real fond of managing for a hobby.
What I'm considering as an option right now is to call the next version Release 3 (Beta). This version would include all races I feel are playable in a similar format shown above. Detailed instructions would be provided for enabling the mod along with pre-built EnabledMods.txt files for the various combinations supported.
When a beta release reaches a level of stability and passes the beta stage a merged mod could then be released for those not comfortable with the mod stacking approach.
How close are the races to completion?
Time lines are nebulous at best but I'll give a brief overview of where I think things stand.


Nephilim - No longer in beta stage. Contains custom research trees, ships and orbital structure models. A stable race that could benefit from some more texture updates.


Plague - Not really in beta stage. A stable race that is missing some orbital structure models, but contains custom research trees, ship and orbital structure models. Textures are good for the most part but could use some enhancements. Needs new voice recordings though current is a remix of Vasari adding a new feel.


Alliance - A homage race to the beta release of alliance hidden agenda. Contains many of the models and abilities that made up the AHA mod. Also adds the beta kol and beta marza as playable capital ships. Needs research tree customizations to show a sharing of technology. Need to determine which abilities will be merged from AHA and what new abilities will need designed.


Rogue Traders - Still in the beta stage, though my local version appears stable. Complete with custom research tree, models for ships and orbital structures (envoy is still pending an appropriate model). Waiting for another release for people to play. Needs custom voices as vanilla Tech is too bland for this race.


Hypercorps - Newest installment to Transhumans. Complete with custom models for ships and orbital structures (envoy is still pending for an appropriate model). Needs custom research tree focusing on Transhuman advancements and nano-technology. Abilities are designed and partially coded for capital ships.


Archailects- Least developed of the races. Needs additional ship and structure models as well as custom research tree design. The concept of restoring lost experience has been prototyped and works well. Design will begin on this race when the Hypercorps race's research tree is completed.
In addition to the items noted above Balance and Diplomatic Pacts are the next big item.
Balance is a big issue, but Pacts are a bigger design issue as they are currently limited to a max of eighteen. With the original SIns of the Fallen I got around this limitation by stealing 2 pacts from each race giving 3 pacts to Nephilim and Plague. This won't work with 9 races involved. I will either need to design a new pact system that supports 9 races or drop it entirely and use the existing pacts defined with the core game. Ideas are welcome on the pact system and I will eventually present some of the ideas I have that are floating around in my head.
Thanks again