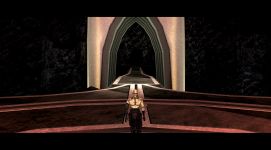 The reason for the lack of updates lately, to be honest, is that I hadn't actually done anything for quite a while. About a month. I know it's a bad excuse, but I just didn't "feel like it", and I've been busy with several other Star Wars projects, including a Knights of the Old Republic fanfilm titled Revelation - which is not done in the ordinary game-capture way. But this week I decided to just put my focus for now on this mod.
There's some new major plans as well. I'll be having new cinematics in the game, such as for the Devastation of Katarr and Atton's past as an assassin. I'll be using a combination of differenet elements for these, not just game captures. In the deleted Nihilus vs. Sion scene, for example, you will see bolts of lightning shooting through Sion when Nihilus sends Force lightning towards him as you saw happen to Mace Windu in Episode III: Revenge of the Sith. Not done through the game engine.
I have also set up a Livestream channel to have news, previews, live gameplay, and live modding for TSLMIM. Any previews and trailers will appear there for the first time. Expect a new video update soon.
Finally, do not expect the mod to be released until after a trailer is uploaded (to clarify, not just a preview, a trailer).
-Drewton