Hi guys,
It's been a while since the last update so here's the low down on what's been happening!
Anonymousjim has been working on the models for the Nod and GDI minigunners for a while now, the models are currently un-textured as they are still a work in progress, see below: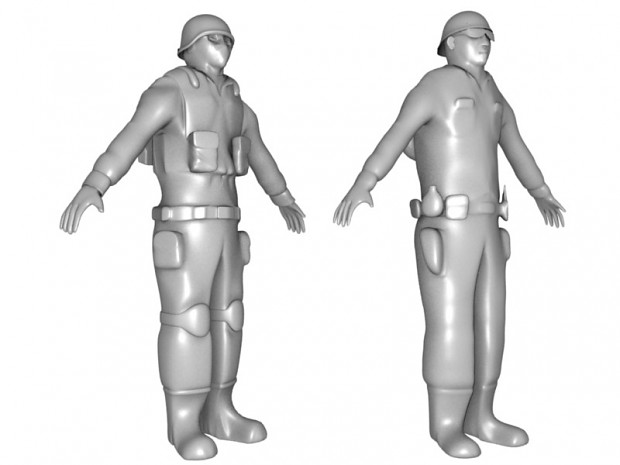 We hope to soon have these models finished then texturing will begin and the process of rigging the models for animation.
Rob42lou, our man in the code, has also been doing a bit of work on the game's physics and collisions.
On another note, we've unfortunately had a bit of a loss in staff again as Pritchy96 has left the team due to various other commitments and lack of time. As such we are now, more than ever, looking for more willing recruits to hop on board and lend a hand.
At the moment we are looking for people to work in the following fields:
· 3D Artists *: We want people who are able to make models for vehicles, assets and scenery.
· Texture Artists: For various BSP textures but also weapons and characters.
· Concept Artists *: At this point, design is a big field so we would like to have the most concept art and ideas as possible.
· Programmers: Preferably people familiar with UDK and unreal script, however this isn't essential if you think you would be able to pick it up.
· Animators: For the many different character and vehicle animations.
· Sound Designers *: Ambient, gunfire, and engine sounds.
* = Not accepting applications for this position at this time.
You will be placed under a 1 month probation period, in which you must show us you can follow these rules.
Also, ALL Members are required to send at least 1 email a week, telling us what you're working on, how far you've come, and any questions you may have.
If you feel you have the required talent and would like to apply, then message us here on Moddb or just send us an email at: Firestorm-Productions@hotmail.com
Thanks guys, and we'll keep you updated as the work progresses!
-The Firestorm Productions Team