Dear DayZ Community,
We are three weeks into our quite intensive development planning that will shape DayZ this year. It means sorting through, and
selecting features, content, and timeline of their delivery
- in practice a lot of meetings, whiteboard scribbles, and digging through our backlogs trying to identify what we're able to deliver this year, and when. In the meantime,
normal development continues
, and we have deployed a first bug fixing patch, with more bug fixing ahead of us of course, as we also have a backlog there to go through.

The first quarter of this year is pretty much all about spring cleaning, and us getting on track to more scheduled Stable Platform Updates bringing new content and fixes. The first Platform Update is on its way to be released in February, and we will share more details once it's live on Experimental. We want to improve the game in many areas. We also hear you loud and clear and are aware of a vast amount of reported issues. They will get the attention they deserve when there's a right time for that, for now, let's look at some of the most critical and immediate ones.


Top Community Issues
Server Performance
- server performance affects everything, from user actions taking too long, doors not opening, infected that stutter, to vehicle physics behaving in weird ways. Most of the gameplay can get affected when the server FPS dip below 20, and currently, that's happening on full or high population servers more often than acceptable. As such, this is our top priority to sort out. While the build out there right now has seen a noticeable FPS increase on low population servers, it still does not scale well enough when more players are active, and we are tracking possible causes of this server performance drop.
Persistence
- right now, we are preparing a safety net for persistence that will help the current shortcomings where entire areas get wiped when the server crashes during the writing process of the snapshot of the world state. In simpler terms, the persistence data does not save correctly because of a crash. The proposed solution is in testing and will land on Experimental once ready. When that happens, we will do our best to share useful information on the usage and functionality of the safety net solution.


Picture by GallopingGepard

Server Browser
- we know the new server browser still has its flaws, and performance issues which are getting in the way of the DayZ experience. We are looking into possible improvements on a more granular level; however, those might take time, so at first, we will dig into the issues that damage the experience the most. Once there is more information to share, we will provide an update.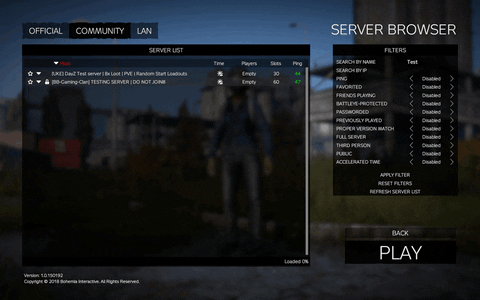 Animation issues
- we are tracking multiple issues that break characters/weapons and more, and these require engine level fixes that are in discussion right now. Once e details get sorted out, and fixes are confirmed, we will talk about these in greater detail.



The issues above are our primary areas of interest as of now, but the list of reported issues goes on, from bullet damage to medical items not serving any real purpose, or item placing being very limited, and more. While the list above does represent some of the reported issues (arguably the ones that break the gameplay experience the most), it does not mean we're not considering, or working on the rest.


Modding
We'll do justice to our company motto -
Curiosity, Creativity, Community
- by delivering significant modding improvements this year. Documentation, samples, and fixes that make new things possible are all in our pipeline. We will look at the topics of licenses and content usage, as well as making sure that with upcoming Platform Updates, we provide Experimental server branch to everybody so that both server owners and content creators can look at the game changes happening, and make necessary arrangements for their creations.

We're already seeing lots of cool creations in the Steam Workshop (some prime examples in the video below!), and it'll be exciting to see what's possible in the future.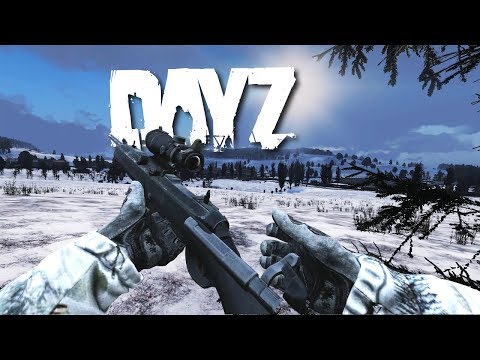 YouTube™ Video: Winter Sniper in DayZ...
Views: 247,573
Check out my Twitch channel:
Twitch.tv
My first video on the Winter Chernarus map. Hope you guys enjoy this one!
Weapons
We have a massive weapons backlog to go through, and you can expect that we will not only look into current issues with firearms (both visual and functional), damage and unconsciousness values but most importantly into that big stash of weapons that haven't been implemented yet. Our weapons strike team has already managed to make steps toward having
two new firearms
implemented in the upcoming February Platform Update. We will share more details when they're ready.

Vehicles
Vehicles have a lot more polish coming to them this year in terms of stability and functionality. As already mentioned, we know and understand that
server performance has a huge impact on the experience
, especially when player counts go beyond the recommended 60 players on community servers. Server optimisation plays a huge part in our early spring cleaning, so bear with us. While this is, of course, important, we can't forget that we should
expand the variety of vehicular transport;
this year will bring more options to players. Once again, we will share more details on the upcoming vehicles once we're sure we're ready to deliver.

Consoles
Recently, we've opened a round of Community Feedback targeted at our Xbox Survivors, and it proved to be a great source of useful information. Our console specialists in Bratislava are already looking into Xbox specific issues that were reported often and can be scheduled for a relatively easy fix, and there are of course the more complex issues like
rendering and performance drops that are being investigated
. DayZ launched with very decent frames in Xbox Game Preview, and we believe we can get rid of the current drops. It will take some time though.

We also know that we still have a large sleeper community on PlayStation 4 patiently waiting for a release. While we are currently not able to dedicate more resources to advancing with another platform, we're taking small steps towards a PS4 release later this year.

Communication
With many internal changes in planning and how we approach update releases overall, we will also need to be rethinking
how often and in what forms we're communicating
with you. We still have a lot of brainstorming to do, but it's very likely that the frequency of development Status Reports will
no longer follow the 2 week period
. Instead, we'd like to think of ways how to more actively work with what's happening in the community, engage in the events organised by community server owners, and improve the direct communication across channels.

Before the PC 1.0, we've made an attempt at Focused Feedback rounds with our game designers, and we'd like to get back to that idea when we know our developers can invest the time into carefully evaluating the feedback we receive on balancing, or specific game design topics.

What we mentioned today is merely a fraction of things that are ahead of us this year; there's more to share down the road, but only when we're ready to talk about it. Once our internal roadmap is fleshed out, we will start our deep dive into how exactly DayZ will change this year.

Until then, see you all in Chernarus!


- Eugen Harton / Project Lead