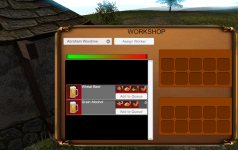 So I have started to work on coding the workshops. As you can see from this image, you basically can assign an NPC a profession to work here. From morning to evening, they will go thru the queue of items here and produce them . On the left there is a list of craftable items that is automatically populated depending on the type of workshop it is. Which is great because now I have a framework for any kind of building.
I started with a tavern because (IRL) I love brewing beer and I wanted to make brewing really fun in this game, so there will be several different types of beer to make as well as various alcohols. This example wheat beer uses 'Noble Hops' as an ingredient, water wheat and yeast. I'm hoping when I add the farming profession they can produce a number of different types of hops.
If you have any questions or feedback I would love to answer them! I'm always looking for suggestions on improving this game.