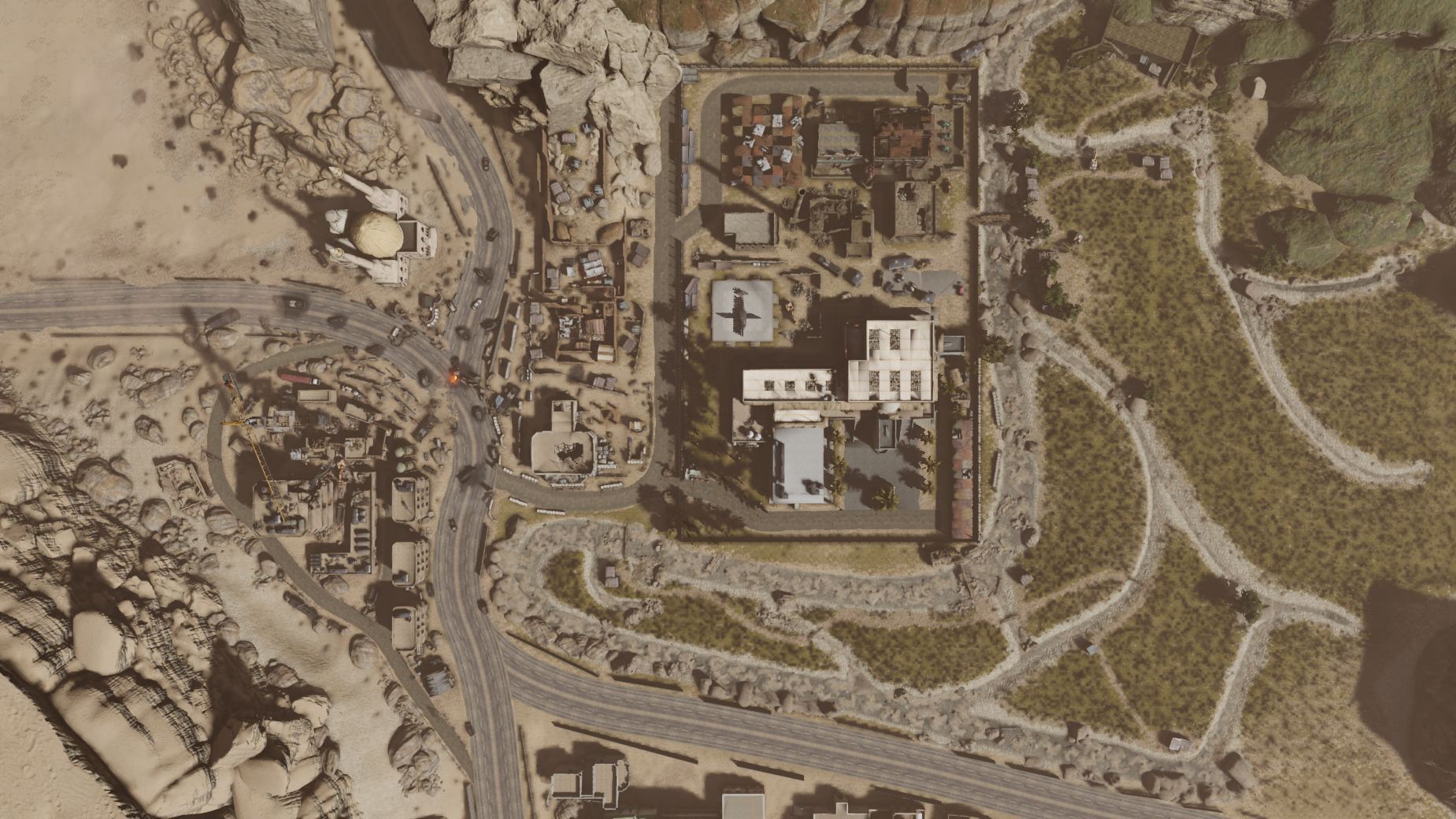 SoD - Sultan Of Drugs
I started working on this map mid October since I was really busy before that time. The first week I explored modular assets and tested some settings abuot the engine.
---
30 October 2020
After playing a little bit with modular assets and natural models, I ended up sketching the rough backdrop, terrain and buildings placement.
Landscape splines used to draw streets.
I used one of the many terrain materials and manually painted the first division between the desert and the green area.
I added a HeightFog with Volumetric Shadows to simulate the "Sandstorm" effect all over the map.
Large sequence of the same wall instance has been achieved using HISM actors.
2 November 2020
I copied a little portion of map from "PowerPlant" because I was planning to place this map near that region (you can actually see the dam in this map) and i modified them to create a new, large, building.
Added an abandoned parking zone near these buildings.
Started working on some interiors.
20 November 2020
Copied and modified a portion of the garage section from Ministry (entrance and stairs).
Using this area as startup, i built 2 floors for the manor.
Using stairs from Ministry, I added the upper portion of the manor (HQ/Echo).
Complete sketch of the Villa building.
28 November 2020
Added more ruins in the middle of the map.
Added river rocks.
Created a modified version of the terrain material to use a texture fitting the river ground.
2 December 2020
Started working on details and interiors.
Modified some buildings to increase feeling of destruction.
Added some road obstacles near the Mosque
3 December 2020 - 5 December 2020
Mostly worked on details and interiors.
Added some trees using the foliage tool.
6 December 2020 - 8 December 2020
Started using HLODs to reduce CPU and GPU usage.
Added some particle effects and decals
Added more details
Past 8 December 2020
Map optimization with HLODs and baked lights.
Added even more details thanks to the optimizations.
Added gameplay actors like destructables.
Used foliage tool to apply grass, little rocks and illegal plants.
Worked on Nav Mesh to ensure correct navigation of bots.
Worked on implementing Checkpoint game mode as first one.
Added reinforced AICovers.
Added minimap with correct positions.
Worked on interior linghting and reflection captures.
Modified some little portions of the map to improve gameplay experience.
Added ingots custom model and modified original texture "T_SpiceShop_01_BC" for illegal harvest.
Merged some natural meshes to improve performance overall.
Added truck entrance but this currently doesn't work on the standalone game.
21 December 2020