---------------------------------------Starsss - Development Blog Post #31---------------------------------------
A magical character with the body of a snow ball takes out his nose. What happens next is totally unexpected!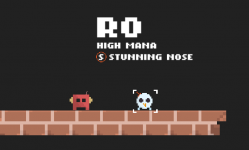 Did that grab your attention? As a matter of fact it describes exactly what you will be seeing in today's update - Ro's special skill!
In stark contrast to Beat's 5-hit combo, Ro's special skill - Stunning Nose, is more of an utility skill that you can use in certain situations. Let's take a look at it in action first!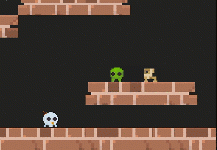 Instead of doing huge damage to a single enemy, Ro's Stunning Nose is an Area-Of-Effect (AOE) skill that damages any nearby enemies within its blast radius. More importantly, it also stuns those enemies for a few seconds!
While the affected enemies are stunned, they will not be able to move nor attack you! This gives you free reign to do whatever you want with them for that few seconds!
Ro's Stunning Nose also costs 5 mana (mp) to use. So if your max mp is 8, using Ro's Stunning Nose will leave you with 3 mp to use your abilities to attack.
While using Ro's Stunning Nose, do also take note that it will send Ro flying back (slightly) due to a slight recoil in shooting his nose. If you are near the edge of a platform, you might fall off from it after using it. So consider your surroundings before using it.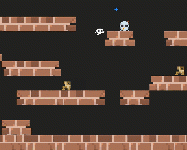 Share the word about Starsss
We would like you to help us share and spread the word about Starsss. Help support the game by getting it now (for a 65% discount!), tweet about it, vote for it on Steam Greenlight or even tell your family and friends about it.
Every bit helps. We couldn't have come so far without your help and we ask that you continue to do so and walk this journey with us to create the best gameplay experience in Starsss.
We are also committed to updating the game regularly as evidently seen with the regular blog updates. You can also check out our live game development stream where you can see how game mechanics are added or character designs are made.
Last but not least, thank you for always dropping by! Do remember to say Hi via Twitter (@WhiteSponge) if you can! And enjoy today's live stream session that is now uploaded onto YouTube! Cheers!