---------------------------------------Starsss - Development Blog Post #12---------------------------------------
While there won't be a full blown inventory made for Starsss, it is still necessary that you can store attacks for weapons that you don't own yet. Especially so since now you can have both primary and secondary weapons from learning Dual Offense.
Therefore, instead of a traditional inventory that you can find in RPGs, you will get a vault in Starsss. The vault is where weapons (from stars) and weapon orbs, which are now dropped from defeated enemies, when collected, are stored as weapon attacks in your vault.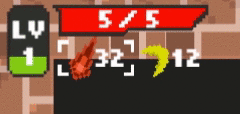 You will be able to see what types of attacks you have collected and the amount of attacks left for each type. And if you want to go back to seeing your primary and secondary weapons, you can simply press V again, use your X (to attack) or C (to change to/from primary/secondary weapon) key.
By the way, did I also mention that enemies now drop weapon orbs?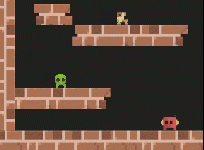 With every attack you make, your remaining available number of attacks will decrease and that is when you will need to replenish your vault via collecting stars or weapon orbs.
Now what happens when you collect a weapon orb for which you do not have the weapon yet? If you have gotten a fireball orb with only wave and heavy wave as your primary and secondary weapons, the fireball orb will be stored in your vault instead.
And when you replace your currently selected weapon with fireball (through another star), the amount of fireballs stored in your vault will be added to the new weapon (fireball)!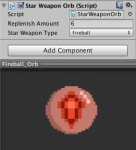 And as usual, check out the game development live stream session recorded and now uploaded on YouTube. Enjoy!