Hey everyone! My name is David, and I would like to share about Starsss, a new game for PC/Mac/Linux that I have just started working on.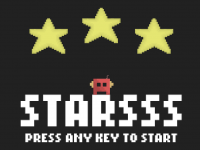 Starsss is a roguelike platformer that sets you up on the ultimate star-chasing adventure. With Starsss, you will be on the hunt for stars while also defeating enemies or avoiding them. And each time you die, you'll have to start all over on a new procedurally generated/randomized stage!
As I have some experience with creating RPG games (although I've only made Small Chronicles), crafting a roguelike kind of feels natural to me.
I am also not exaggerating when I say that progress on Starsss has only just started these few days. Starsss is also different from my previously made games in that its development will be streamed live!
You can catch the live stream over at WhiteSponge's TwitchTV channel every Monday, Thursday and Saturday from 8pm to 11pm EST.
And so let's start with the first development blog post for Starsss!
-------------------------------------------------
Starsss - Development Blog Post #1
-------------------------------------------------
So even though I have only just started, I have already added basic random wall placement to Starsss using placeholder images.
As you saw above, the 2 screenshots showed that each time you restart, the walls will be randomly placed (for both top and bottom edges). This allows for a more refreshing gameplay experience when you restart/start the game.
So if you drop in between any gaps, it is instant game over :D
On top of that, the game will also randomize which stages to load so every time you play the game, you will start from a different stage.
There are still some bugs with the character getting stuck while moving across the walls' platform so I'll have to fix that too.
If you are interested to check out the recorded version of this dev session (yes it was live-streamed via TwitchTV), jump straight to it. It's around 2 hours so have fun watching me add that random wall placement to Starsss ^^