---------------------------------------Starsss - Development Blog Post #27---------------------------------------
It has only been a few days since the alpha launch of Starsss but there's new progress since then! Let's take a look at the new and fourth ability that has been added to the game - Impulse!
Impulse is somewhat different from the 3 abilities that you may have seen till date. Instead of damaging only a single enemy or enemies within a row, it does damage to any enemy within its blast radius.

Did you notice that it isn't the projectile that damages enemies but the blast that does so? Impulse actually creates a blast that pushes any enemy away from its center radius. Apart from that, it is also really important that you get used to how the Impulse projectile bounces around.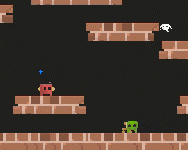 Yes you can get damaged from Impulse's blast too! This makes Impulse that much harder to use or master. On the other hand, with Impulse, you can do damage to multiple enemies at once! So in the long run, you are actually saving more mana with Impulse.
With the addition of Impulse, enemies can now also drop ability orbs for Impulse! Collecting them goes towards a long way of leveling up your Impulse ability for that added damage!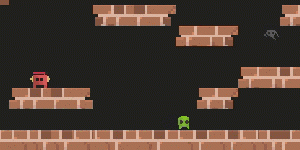 So what do you think of this new ability? Do you like it? Or do you hate it?
Also don't forget to vote for Starsss on Steam Greenlight! It will go a long way towards helping you get Starsss from Steam!
You can also get Starsss (v0.01 alpha) right now for a much lower price from the WhiteSponge Store!
Last but not least, you can also check out how Impulse was added to Starsss in the live game development stream that's now on YouTube. Enjoy!