---------------------------------------Starsss - Development Blog Post #22---------------------------------------
Things are gonna get pretty exciting from here on as Starsss will be on Steam Greenlight and its alpha version will be out in just 2 weeks on this coming November 14th!
It has been an awesome 2 to 3 months of game crafting to get Starsss to its current stage. And the moment for its alpha version will finally be here soon in under 2 weeks!
These few months of game crafting took Starsss from an idea to become a (not completed) game with randomized stages, various wacky enemies, interesting character growths and a boss who is kinda crazily hard to defeat.
However, do also take note that as Starsss is currently still at its alpha version, many things you see or experience might or might not change in the long run. And there is where you come in as your feedback means the world to WhiteSponge!
Starsss will also be on Steam Greenlight in just under 2 weeks on November 14th! Steam Greenlight is where games still in development can be submitted to go through a voting process. This determines if the game will get to be on Steam or not.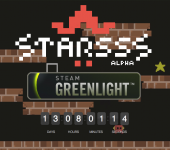 A link to Starsss' Steam Greenlight page will also appear on the page where the countdown timer is currently at. So be sure to help more people get their hands on Starsss by helping to vote for the game in 2 weeks time on this coming 14th November!