---------------------------------------Starsss - Development Blog Post #7---------------------------------------
As you might have noticed, Starsss only features a single stage at the moment, and that is the brick stage. However, it is only the beginning of your star-chasing journey as you will get to explore new and different stages later on.
Creating more stages means that there has to be a way for you to get to them. And this is where the door comes in.
The door will only appear when you have collected all 8 stars for any stage. And once you have done so, it will randomly appear on 1 of the platforms. Tread carefully on your way to the door as enemies will still continue to spawn.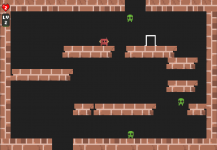 When you get to the door, the game will change scenes and prepare for the next stage to be displayed. But before that, it will determine if you have leveled up during the previous stage play through. And if you have successfully leveled up from all the enemies that you have defeated, the growth scene will be shown.
As its name implies, the growth scene is where you can grow your character and make him or her better. And you can do it via selecting one of the growth attributes that will be shown in the scene. Below are some sketches of how the upcoming growth scene will look like.
Think of growth attributes as characteristics that you can improve on. Things like moving speed and jumping ability are just a few of the many growth attributes.
Get the latest Starsss updates!
If you have not yet subscribed to WhiteSponge's newsletter list, it's absolutely free to do so using just your email address. You will only receive emails that are personally handcrafted for you with the latest WhiteSponge gaming-related news.
Starsss' development process is also being live streamed so WhiteSponge would like to invite you to join the livestreams every Monday, Thursday and Saturday (EST). If you have enjoyed the blog posts, videos and live streams of Starsss thus far, do help by spreading the word about the game. You can help by tweeting, posting on Facebook, following WhiteSponge on TwitchTV or telling your friends about Starsss.
WhiteSponge would also like to thank you for your support thus far! Join WhiteSponge as the progress on Starsss continues! Don't forget to watch the recorded version of today's live stream now on YouTube below! Enjoy!