---------------------------------------Starsss - Development Blog Post #21---------------------------------------
Without all the juicy animations and sound effects, what remains at the core of a game are the gameplay mechanics. With Starsss, those are the key to an awesome gameplay experience! So it is without a doubt that any bugs that threaten that experience must be de-bugged.
Bugs can range from things such as abilities not coming out to having platforms that are simply not accessible from the bottom. Speaking of abilities not coming out, the only time that will happen is when you do not have enough mana to use them.
Running out of mana isn't fun when an enemy is just right ahead of you. So be sure to always check your mana bar on the top left corner of the game!

Your gameplay experience in Starsss is also of the topmost priority. And that means when a randomized stage like the following appears, it is simply not acceptable.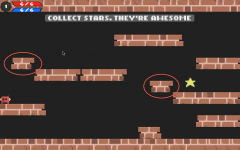 Notice that there isn't any way for you to get to the star? A few of the top platforms are not accessible as they are blocked by the other smaller ones!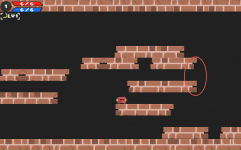 In this stage, the path to the top are not blocked by other platforms. Instead, there simply isn't any space for you to jump onto as there are platforms which have their right edges at the same column or x coordinate.
While the chances of having randomized stages like these are extremely low, they are not zero. A great amount of time is therefore spent on resolving these wacky scenarios to ensure that your gameplay experience remains awesome.
And that is what really matters here at WhiteSponge - you smiling and having fun while playing Starsss! So be sure to follow on Twitter, Vine and like on Facebook to get the latest update on when the alpha version might be coming out!
As usual, check out the behind-the-scenes of the bugs' infestation! Enjoy!