---------------------------------------Starsss - Development Blog Post #18---------------------------------------
There are many things that make a game exciting, and one of the more important ones are the enemies or challenges that you face within the game. And so I'm really excited to introduce to you Big Teeth, the first boss that will challenge your star-chasing adventure in Starsss!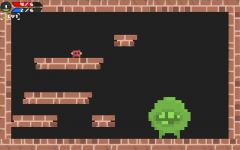 As a badass boss, Big Teeth is not only bigger in size, he also has more health, special boss-only moves and he can use those moves on you whenever he wants.
As his name implies, Big Teeth has his mouth always opened, thereby exposing his gigantic teeth. It is also from there where he does his special projectiles attack.
Whenever Big Teeth uses his special projectiles attack, he would also move around doing so. His projectiles are also randomly spread so be sure to take cover on the platforms on the left!
Due to Big Teeth's huge size, his movement is rather slow. However, that doesn't mean that he doesn't have any special and devastating attacks that can affect the entire stage.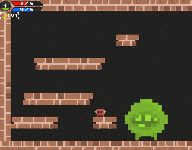 If you see this coming, you had better jump or be in mid-air. Otherwise Big Teeth's jumping earthquake attack will not only shake the entire stage, it will also damage you.
So what do you think of Big Teeth? Does he seem overpowered to you at the moment? On the flip side, if you manage to defeat him, you can get ready to receive lots of experience! It is also possible for you to receive something special after you defeat him but let's keep that a secret for now.
And as usual, check out the behind-the-scenes of how Big Teeth was added to Starsss! Enjoy!