---------------------------------------Starsss - Development Blog Post #4---------------------------------------
So if you have been following the latest updates, Starsss is a roguelike platformer that is all about chasing stars on your PC/Mac/Linux ~ But where are the stars in the game?
They are up in the stellar skies! Well at least that is what you would see when you gaze upon the skies at night. But for Starsss, this means deciding what role the stars will play in the game and adding them in.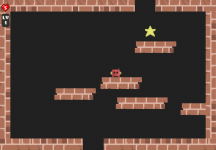 So in order to advance from each stage to the next, you will have to collect stars to open the portal that links to the next. Around 8 stars sounds nice because that is a lucky number considered by many.
And so when you have gotten a star, a new star will appear randomly on top of another platform or on the floor.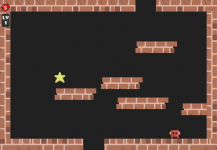 On top of that, every time a new star appears, it will also hover up and down above the ground. This makes it easier to notice it too.
As the game is still in its really early stages, there is still work to be done to improve on how the star looks and animates. While the following are not implemented yet, for starters, an appearing animation will be added to make each star enter the stage like a star.
And do you remember that Starsss will also have enemies that will get in the way of your star-chasing? This means that you will be able to deal with them, through acquiring attacks and magic from the stars you collect.
Those will be on the top of the list of things to implement so be sure to keep checking the blog for new updates! New blog posts will be up regularly every Tuesday and Friday!
And as usual, you can catch the recorded version of today's live game development session now on Youtube! Enjoy!