Tau'ri Beta Changelog
Gameplay Changes
Lots of changes have been made to Gameplay, some permanent and some temporary. The most noticeable change you will find will be the Fighter attack movements (Where ships move around like fighters trying to dodge incoming fire) I have disabled this for a number of reasons, mainly because the mechanism is somewhat broken and ships will continue to move away from the attacker and they will get sometimes as far as the gravity well trying to get out of the ships weapon range. The second reason would be that ships in Stargate don't unusually do fighter type movements they generally just sit their and fight, more research will be done into this and might change later on, this may not me a permanent change so leave your opinion below if you are for or against this.
Hero Units
Yes Hero units are in game and working properly, if you have played STA 3 they basically work the same way as their hero units. Currently the hero Units are the Daedalus class, the Apollo class and the Odyssey. You probably can't see it in the picture but each BC-304 Hero ship has their respective name written on the side of their ship. The second picture is the base that spawns at your home planet, make sure to not get it destroyed as you only get 1 throughout the entire game. The base is what can spawn your hero units from.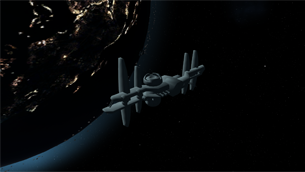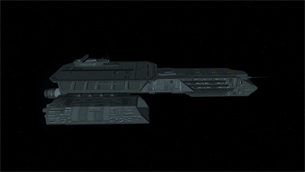 Hero Abilities
The 3 Hero units will all have 3 Abilities and all the Hero units will have a Asgard Beam abiltity. If you have any suggestions for any type of ability for any type of ship leave a comment below in the current format.
Apollo Class Abilities
- Name: Overload Engines, Description: Push the Apollos engine to the max to either flee or catch up to a target. This can be very useful to give the finishing blow to an enemy ship when it is retreating or for you to escape and save your Apollo.
-Name: Horizon Warheads, Description: The system consists of a large, bullet-shaped delivery module containing ten missiles, six with Mark IX tactical warheads and four decoys, the missiles themselves are released about twelve seconds prior to impact, finding individual targets and detonating simultaneously. Very useful to take out lots of targets all at once.
Daedalus Class Abilities
- Name: Mark VIII Nuke Warhead, Description: Beams a Mark VIII Nuke aboard enemy vessels, using Asgard Beaming Technology, destroying the ship instantly. The ability will now instantly destroy ships this also means that I had to take it off the generic BC-304 Cruiser or it will be way to overpowered. Later on when Wraith are added to the game I might make it so that it can only target them.
- Name: Activate ZPM, Description: Plugs in the ZPM to the Daedalus which greatly increases effectiveness in all aspects. This ability is for defence purposes only and will boost your shield strength considerably.
Odyssey Class Abilities
- Name: Activate Cloak, Description: Research teams have discovered the secrets of the Ancients Cloaking technology. This ability will now make your ships completely disappear and not just make it look phased out.
- Name: Activate Asgard Core, Description: Activates the Asgard Core that is onboard the Odyssey which enhances numerous systems aboard the ship. This ability is for offensive purposes, it will boost all energy weapons onboard the ship giving you a considerable weapons damage enhancement. Some of these abilities may be a overpowered so once the beta is released leave your opinion below on if you think I should adjust these values.
UI Changes
You already saw some of the changes I made when I posted the pictures so I won't bother showing you those again but i will show you ones I haven't released to the public yet. The Titan Factory and the shield module models is still stock in game and we will change it as soon as the model is done.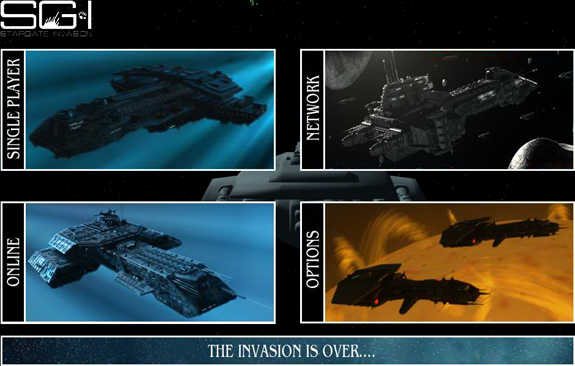 Some people may or may not get confused so I thought I might as well put it out their, "The Invasion Is Over...." is a button and that button is the quit button.
Research Changes
Not that much has been changed here so it will be quick.
You can now only research one titan in a game, if you research lets say the Assualt Titan you won't be able to build or even research the Carrier titan, I also may add some other research connected to the titans so you would really have to decide which field you want to go into, for example the Assualt titan may lead to even more advanced weapons and the carrier titan may lead to more advanced shields, you would have to decide which field you would want to go into and once you go into that field the other field will be locked out, this may or may not be in the next beta release. The next big research thing would be GDO Code, if researched it basically allows you to utilize your allies stargate, you can use it to send ships to allied worlds and basically encourges more teamwork.
Conclusion
I will try to release the beta within the next week or so but I make no promises, until then leave your opinion below on the changelog, Tell me if you really want something in the mod that I haven't included yet in this changelog. Here is one last picture to wet your appetite.