Hey
Im going to try and do one of these each week. I missed the one of friday, mainly because i couldn't decide what to do it on... Originally it was going to be the Starship Troopers Tech Tree, but i havn't gotthat far yet, and no one is helping me do one, so i figure ill just leave it be for now. In the end i figured a run down of all the old heroes will do..
Staring with Stargate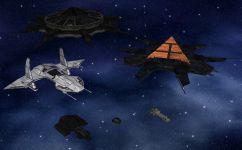 Tier 0a - General Hammond - Leader of the SGC, hes the faction leader...
Tier 0b - John Shepard / Rodney Mckay - Essentially R2D2. Shepard is the transport, hes in a hyperspace capable jumper. Rodney has the hack ability so hes the one that gets the new tech.
Tier 1 - SG1 - Front Middle - Alkesh, essentially Milenium Falcon.
Tier 2 - Mitchel - Not in image - F302 Mk2, an F302 with an experimental portable asgard beam special ability. He was originally going to be a nornal 302, unitl i ran a contest and this idea won, so here he is lol.
Tier 3 - Prometheus - From Right - X303,
(In Canon) First space ship built by the Tauri. Refitted several times by both the humans and the Asgard. It was the best we had when Anubis made a play for Earth and we held of an assault squad protecting SG1 long enough to activate the ancient weapons, destroying his fleet. She eventually met her demise against an Ori satelite...
(In SFAW) A corvette class, good at countering tier 1s, all fighters and all bombers.
Tier 4 - Apophis - Back Right - Anubis Mothership
(In Canon) Apophis custom mothership. Capable of wiping the floor against most old hataks. Normally protected by a half dozen cloaked Apohpis Cloakable Hataks.
(In SFAW) It has the same power level as Yoda, not the strongest ship around but its still fairly powerful. Good enough to take on most ships below tier 4-5
Tier 5 - Anubis - Back Left - Anubis Mothership
(In Canon) Anubis's custom mothership has the firepower to destroy a fleet of Hataks. It was unstopable wiping out while fleet, scared of nothing, it eventually destroyed above Earth by SG1 and the ancient weapons platform.
(In SFAW) Its the same power as Home One its good against most ships tier 6-7 and lower
Tier 6 - Daedalus - Front Left -
(In Canon) Daedalus was the first BC304 of the production line. It was designed with asgard tech already incorperated instead of it being tacked on after the fact. IT successfuly fought of two Wraith hives and there escorts above atlantis. But was out gunned when facing off against several hives later on. Several years later it was refitted with asgard beam wepaons. It it now one of the flag ships of Earths fleet.
(IN SFAW) Custom BC304 Mk2, has asgard beam as well as 304 mk1 weapons. It can take on anytihng tier 9 and lower without missing beat...
Tier 7 - Thor - Left middle -
(In Canon) Thor uses a Danial Jackson class ship.
(In SFAW) Hes meant to be a great leader, and the Commander of the Asgard Fleet. And a commander doesn't use a research vessel as his flag Ship, so he has a custom Oniell Mk2. It has asgard beam and Oniell mk1 weapons, more than capable of holding his own against any other ship.
Hope that clears up the stargate heroes...
any questions just ask