Next Starfall Tactics update, as it was previously announced, is dedicated to the MMO part of the game. And in this article we are telling you about two important things: Regions for the Galaxy Map and Strategic Resources.
Galaxy Map: Regions
---
Galaxy in Starfall Tactics is a huge and dangerous place where you can meet pirates, enemies and hostile factions - and there are no really safe zones in this space.
At least, there was none in all tests: now we come back to the concept of the Galaxy divided into several huge zones as the time has finally come to make it real and there are some things on the way to the game which require its realization. For example, quests and tutorial missions require a set of safe zones or at least some fixed objects which will remain under control of your faction or neutral, while each faction also should have a minimum unconquerable zone to survive even under high pressure.
And here comes our planned feature - space regions. There will be two main regions: Inner Region and Outer Region, and, additionally, special Home Regions which are located inside Inner Region:
Home Region - a set of unconquerable star systems with a high security, belonging to playable factions. There are three Home Regions in total - one for each faction: Deprived, Vanguard and Eclipse. These star systems are a real home for them, the heart of their domain, a strategic place they with accordingly high level of defense: only the strongest fleets guard these regions and all intruders and violators will be eliminated. That's here where you find your first missions and start exploring the Galaxy.
Inner Region takes 25% of the whole Galaxy and is a contested space where you can meet pirates and other rivals (except of Home Regions). Here faction Houses take the most control on the situation, capture territories, colonize planets and fight against other factions. Also, Strategic Resources can be found only in Inner Regions.
Outer Region - an extremely dangerous place hiding terrifying secrets of the Galaxy, rich loot and all the types of bad guys. Nobody tries to conquer it as it's too hard to defend here, but everybody wants to visit it - seeking for fame and rewards or precious resources.
It's not yet fully implemented - but you can see the concept on one of the game arts:
Note that some features is an object to change or adjust. Also, we are always grateful to all feedback and suggestions you make - so don't hesitate to let us know what you think about it and take a chance to make a contribution to further development of the Starfall Tactics Galaxy Conquest mode ;)
Strategic Resources
---
In previous articles we talked about new resources which you will soon find in the game. However, not all of them will appear in the game due to some changes in our resource system: it appeared that our approach was way too complex for the MMO game - among all, it is hard for players to control it as the whole system requires a very high cooperation level between Commanders. So, we decided to keep Houses away from controlling colonies and now everything works almost as it did - except of we tuned it a little, added new features (to be announced in the next news article) and created new resources, including a new type - strategic resources.
Strategic resources, as we already mentioned, can be found only in Inner Regions. Here is everything you should know about them:
There are three main strategic resources, evenly distributed on planets throughout the Inner Region.
Freighters transport them to the very center of the Home Regions, to the home planets (Earth - for Deprived, Odysseus - for Eclipse, Ancora - for Vanguard).
A certain level of income of each of the strategic resources opens access to some kind of factional equipment or ship.
The higher income level faction has for the past several hours, the greater things you can acquire
All these things can be acquired on home planet by spending a certain amount of reputation.
In General, there are four resource types: Strategic Resources we've just talked about, Basic Resources which are produced by planets - used to keep all infrastructure functional; Goods produced by planets and used for trading, Rare Resources you can only mine or find by yourself and use for constructing ships.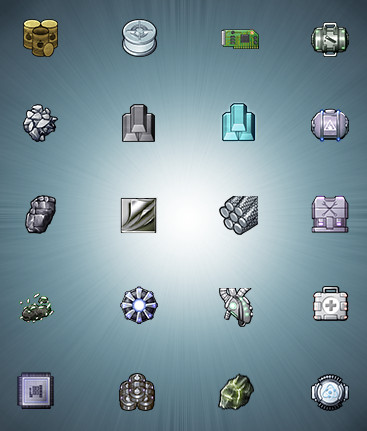 This way the whole system functions better, it's much easier to understand and one House can no more ruin the whole system. Of course there is still a chance that we will change it later for the best - and here, again, we will need you help during the next test to check it properly ;)
Eureka
---
A well-known Eclipse missile ship and a great support unit, Eureka deserves some fresh design now: as it was made too long ago, it differs in many ways from other ships. So, in a short pause between creating cool stuff for the MMO mode, we took time to give a new life for this ship.
Eureka is a unique ship which can be used as a cheap and fast assault rocket ship, or, with a help of another modification - a great support able to carry Repair Complex.