It was originally intended to catch only a small bug, but I did update it largely because it gave me the source (neomail12543, jun3hong, Kysxd). I hope you have fun.
(Bug reporting, feedback is welcome)
Kysxd : GPTP Code support
neomail12543 : Baneling GRP, Oracle Grp, BroodLord GRP, Cocoon GRP, Graphics is just amazing.
Jun3hong : Oracle Portrait, BroodLord & Cocoon wireram
---
It is not possible to run in the remaster. You must either downgrade to 1.16.1 or install and run the Rib version. The 4.5.2 Zip file contains the 1.16.1 patch file
---
4.5.2 FIX Change Log (12/27)
Version 4.5 had some unstable problems. I have solved many problems through sufficient testing. And I adjusted the balance a bit. i recommend download it again.
1. Shield battery overlay crush has been fixed.
2. 'Pylon' Lo file crush has been resolved.
3. 'Oracle' bug has been fixed
4. 'Valkyrie Boomber Mod' Tooltip Crush has been fixed
5. 'Larva Spawn' time has been reduced.
6. Add 'Roach' production image ..
7. Added 'Robotic, Citadel' production animation.
8. 'Gateway' script crush has been fixed.
9. Some other balance adjustment.
---
Starcraft SOR 4.5 Patch Note

<1> System

1. The background screen of the map selection window has changed.
2. At the start of the mlee game, the map will be displayed like Starcraft 2.
3. Most ICONs remained natural.
ex) :
<2> Protoss

1. "Chrono Boost" will be automatically cast at mlee game first.
2. 'Gateway' has production animation.
3. The attack function is added to "Sanctum (Shield Battery)".
4. Some of the "Corruptort" and "Void Archon" technologies will be exchanged.
"Corruptor" can no longer use "Plague" and "Spawn infested Terran", you can use "Frenzy".
5. The population of "Arbiter" will decrease.
6. The attack judgment of "Tempest" will be better.
7. Cool time is given to rush technique of "Zealot".
8. "Stalker" attack graphic and impact judgment will change. 1 x 1 -> 2 x 1
9. The name of "Pylon (Obelisk)" graphics has changed.
10. The graphics of "Oracle" has changed. "Aurgus Combustion" changed to
"Stasis Reveal". Paralyze buildings and late
Oracle Graphic by neomail12543,Portrait by Jun3hong
11. The "Oracle" attack method has changed.
"Smart Targeting" is applied and attack without delay is possible.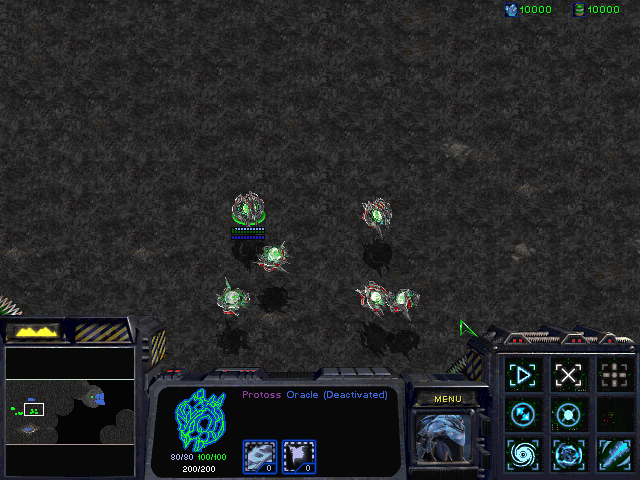 Oracle Graphic by neomail12543,Portrait by Jun3hong
12. "Scout" graphics and attack methods have changed. Moving shots like StarCraft 2 phoenix are possible.
13. "Scout" dedicated upgrade "Anion Pulse - Crystals" has been added to "Fleet Beacon".

<2> Terran
The terran is almost downgraded.
1. "SCV" speed upgrade has been deleted.
2. "Voyager" graphics have been changed. The way of attack, the sound has changed. The moving speed has decreased.
3. "Voyager" dedicated speed upgrade has been added to "Control tower".
4. The 'Mod Change' ability of 'Valkyrie' requires an upgrade.
5. The "Valkyrie" mode switching time will be longer. (0.4 sec -> 1.8 sec)
6. The population of 'Siege Tank' will increase to 3.
7. The attack speed in "Siege Mode" decreases. (70% of Default -> 94%)
8. The Siege Tank attack sound has been changed.
9. The movement speed of "Anaconda" has increased, the attack sound has changed, and the graphics have been slightly changed, and the air attack has been slightly changed.
10. The "Viper" graphics have been changed, and the traditional attack method has been deemed to be very powerful, greatly altering the method of attack, allowing for airborne attacks, with populations ranging from 2 to 3 Increase.
11. When upgrading the "CMC 375", all existing marines will also gain strength.
12. "Nano Suit" requires "Ghost Compound" and has reduced resilience.
13. Requested price of "C-141AC Rifle" increased to 300/300.
14. "Missile Launcher" in "Sience Vessle" has been removed, "Hive Mind Divergence" has been added, and all the units within the scope are collected in one place.
15. The price of "Spider Mine" has been changed to 200/200, and the development time will be longer
16. "Adjutant" energy bug has been fixed.
17. "Comsat Station" space has decreased slightly.
<3> Zerg
1. "Larva Boost" of "Queen" has been changed to "Spawn Larva", Larva is generated directly after a certain period of time.
2. "Hatch Nydus" can be used only once.
3. 'Baneling Nest' has been added.
4. "Baneling" graphics, the way of attack changed. The base Armor has increased by 1.
5. I was able to upgrade the speed of "Baneling".
6. The base Armor of "Hydralisk" has increased by one.
7. "Decimator" name, graphics, attack method changed. I do not consume energy every attack..
8. The attack of "Venomous" has been deleted.
9. "Kill Count" will go up to the enemies who died in "Poisonous Swarm".
10. "Spawn Infested Terran" energy increase to 150.
11. The time of "Unstable infested terran" is reduced to 13 seconds.
12. "Infested Terran" attacks suicide bombs without shooting guns.
13. "Roach" attack speed upgrade was changed to Armor upgrade.
---