Loyal People of Cardassia, you've been waiting a long time for the latest release of A Call To Arms but here it is! As soon as it's been authorised it'll be here and ready for you to download.
We're proud of the work that our team has put into this release, especially Ambarenya who has thrown himself into the little details that we may have missed in the past. Many of the changes are small ones, sometimes beneath the notice of many but Ambarenya, like the Borg has been striving for perfection with this release.

With hundreds, if not thousands of description changes, many new images and fixes to better represent the Star Trek universe we have also been able to Eliminate the dreaded AI tick that some of you with slower CPU's were experiencing. You will still experience lag in multiplayer as this is unavoidable in sins, but I'm sure you'll find that your single player matches are much improved now.
---
Max has been pottering away and I'm sure you'll appreciate the new Wolf359 vessels and the Excelsior and Lacota refit variant that are now in the mod. The work won't stop there though. Max has expressed a desire to re-model some of the other ships that don't quite meet his approval, such as the Miranda. We'll keep you updated on this and will probably release this as an add-on in the future once he's completed his work.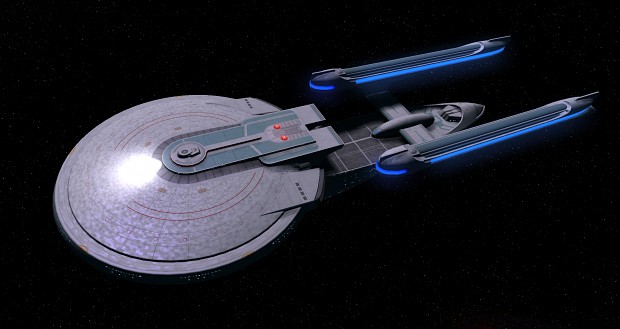 ---
As always there will be questions. Why won't the mod work? Why are all the textures bugged? I've made a short install video that might help with this so please give it a look and see if installing the mod and it's attendant LAA helps. If you're still in trouble, let us know and we'll do everything we can to help!
---
Here's a basin changelog that details the most major changes.
CHANGELOG v1.2---------------------------------------
AI stuttering issue resolved + many optimization improvements.
- Wolf 359 fleet (Third Fleet Reinforcements) updated with new models and textures.
- Updated Excelsior and Excelsior refit models.
- Added additional and varied phaser sound effects for increased immersion in combat.
- Added new "Group Siege Mode" to all bombardment cruisers for user intuitiveness.
- Updated all Federation, Klingon, Romulan, and Cardassian/Dominion factions with new portraits
- there are 16 varied portraits to choose from for each faction.- Reworked the ailing diplomacy system - new diplomacy effects, diplomacy research now requires "treaties" from corresponding factions to be exchanged to unlock.
- Touched up the star textures to make them look better both with and without Bloom enabled.
- Added and revised loading screen quotes for a grand total of 175.
- Revised and edited all Federation, Klingon, Romulan, Borg, and Cardassian-Dominion faction strings.
- Revised and enhanced default capital ship name list, adding 20 new ship names for a total of 50 default ship names per faction.
- Revised and enhanced default faction name list for a total of 12 AI names per faction.
- Maximized the star name list with 50 additional names, for a total of 450 star names (from both real astronomy and Trek lore).
- Maximized the planet name list with 50 additional names, for a total of 450 planet names.
- Reworked the Excalibur's voice files to make them a bit louder and say the phrases that were intended.
- Fixed an issue where player names and icons were not showing up in top left corner of Cardassian UI.
- Added buttons for all nebula and star effects.
- Reworked and edited all planetary bonus strings.
- Reworked and edited all artifact strings.
- Silenced the annoying sound that played when using holofleets.
- Fixed an issue where Cardassian Breen vessels were being spawned at neutral planets.
- Fixed some of the positioning of player symbols in UI.
- Fixed a large number of ship icons and infocard buttons that were either incorrect or missing.- Reworked a number of warp-in abilities to be more realistic: you will always get a fleet, but the fleets will be of somewhat variable size and composition. Fleets also correspond to their in-universe role, for example, Picard will get a fleet of ships that resemble those from Battlegroup Omega/Battle of Sector 001, while the Third Fleet Support will warp in Wolf359 ships.
- Slight buff to the firepower of the Breen Gor Taan Battlecruiser to differentiate it from the Tresh Ghar Destroyer (for some reason, both put out the same amount of damage before this fix).
- Slight buff to Romulan Harpy and Heavy Defender durability.
- Slight buff to Akira's Chain Reaction Pulsar range.
- Slight adjustment to Cardassian Species 8472 call-in ability/ships.
- Slight buff to Cardassian hero durability.- Slight buff to Seven of Nine's hull regen.
- Slightly tweaked the Neutral Faction symbol color to be more immersive.
- Slight nerf to Myotronic beam cooldown time.
- Fixed a small issue with the Hutet's firing arcs.
- The pesky dilithium crystal symbol has thankfully been exterminated from end game summary.
- Some minor Window/HUD fixes.
- Other small fixes.
This is not going to be hugely easy for those updating their addons (I'm sorry guys) as so many files have had changes to them. I'd say about 40% of the files that we have have been changed in some way. Gulp.