So, yes, Star Story: The Horizon Escape has been Greenlit! We would like to say thanks to all people who were involved. Thank you! It would have been much more difficult without you.
And here are few thoughts and tips for game developers with no or little community support (though I won't write anything "how-to"-like because the Valve will close Greenlight in nearest future):
Don't forget to submit your press release to Games Press and other similar resources. It's easy and free. And it lets the press know your game exist. There are chances that someone may actually mention you and your project.
Try to reach out to local press first, because people who have something in common are more likely to cooperate. You and local press already have at least one such thing - you live in the same city/country/etc. In our experience, local journalists were more inclined to write about us. And (!important!) add a personal touch to your e-mails and messages. Don't just spam and Cc, write personal e-mails.

Just be polite, nice and careful.
Post anywhere you can, though only in appropriate subforums/subreddits/Steam groups. And don't be afraid to ask or tell something. If you won't raise your hand, no one will notice you. Just be polite, nice and careful.

And it was close to zero back in January...
Do you use Google Analytics or similar tracking service? Keep in mind that UTM codes are important. They helped us to track so-called dark social traffic (for example, we know that those 7 views came from the exact Twitter post). Check this link for more info on what UTM codes are and how they work.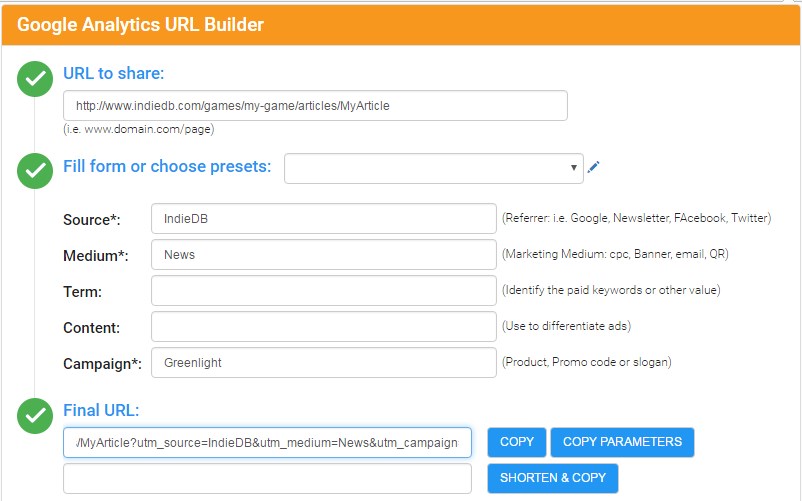 Great tool!
…and try to stay positive! No matter what.
Thanks for your attention! Stay tuned!
EvilCoGames team <3