Welcome to the second official dev blog for Star Plantation!

First of all thank you for taking the time to read it and join us on this new journey into Star Plantation. We will be doing weekly dev blogs every Friday where we will post what we have been up to and what we are looking into next. For now though here is our second week of development in a nutshell.
So we started building a couple of environment tests for the game. Starting off we took a single low poly object and crafted a basic world using lots of them just to design a layout and test area for us. In this area we tested the monsters AI and some of the game features that may or may not make it to the game(such as the Multi Tool, which currently allows you to lookup everything you have discovered in the game).

This is still being used for our AI testing ground currently.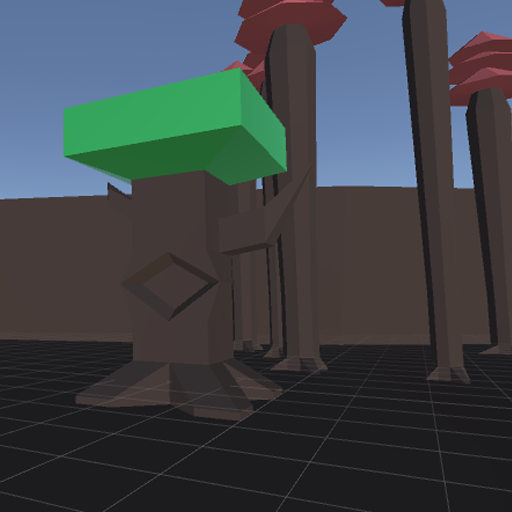 While we were happy with the first environment we made it was still as basic as it gets as we only designed it for testing purposes. Therefore we moved onto the next stage where we started looking into some low poly stylized designs and silhouettes for objects such as trees and rocks.
During this development stage we also started trying out some colors for the objects to see what looks they could create.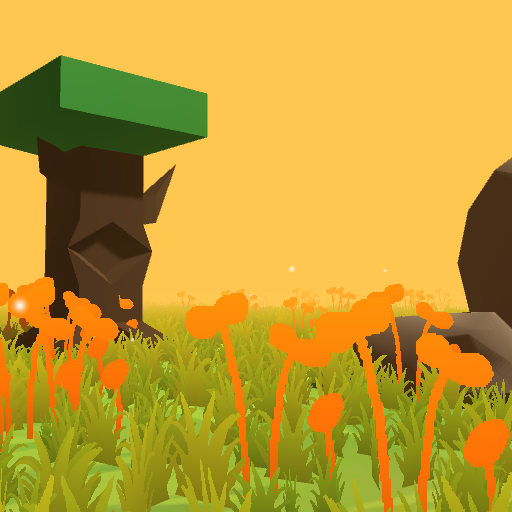 Next, this is where things really started to shape up for us. We created a basic grass texture we could use as grass in the game and a second which we could use as flowers just to break the grass and make area's more distinguished. We also tried another tree silhouette style however we didn't think it fitted in at the end of the testing.
One of the keys things we looked at in this stage was the fog and colors. We really wanted to colors to pop out at you as soon as you looked at the game and we didn't want to use the usual blue colorization that most outdoor based games tend to look. We thought something a bit different would help create the more fantasy element than a realistic light source.
To keep into the fantasy and stylized setting of the environment we also added an area particle which has small almost dust style fragments floating around the air to really help the immersive feeling.
In our most current area build we have been looking at layered texturing which allows us to produce the small uneven bits of ground or small rock formations with blending textures. So we grabbed a few placeholder textures and used them as a resource to give an example of what it could look like.
We also ended up recoloring the fog and environment lighting yet again but we think this time it really helps with the overall look and feel of the game. We also boosted some of the lighting elements to produce a much lighter environment.
As explained earlier we also removed the older looking trees from the area and tried our tall trees back in place and we think it works very well.

So overall we have been very hard at work and can't wait to start mixing in some of the gameplay elements to environment tests to really get a feel how the whole thing will play. With that being said we are now working on the structure placement code so you can build up your own base ship area and provide a great bit of progression for players to enjoy.
We will be doing weekly dev blogs every Friday.
If you want more or want to be part of the development process then head over to Twitch.tv/kandonian to join the dev streams usually GMT time.
The website for the game is currently also being worked on and will be up and running as soon as we can. For now you can follow us on twitter at:

And once again thanks for reading and we will see you next Friday!