Time has built up between the last update I shared about this project, many things have changed and many things will keep up changing.
I have been making changes on the software, and it is now fully open for new possibilities. Although this tool was initially designed for S.T.A.L.K.E.R., I made recent changes in its core libraries to make it both attractive and flexible. What does this mean? Well, let me show you:
- New GUI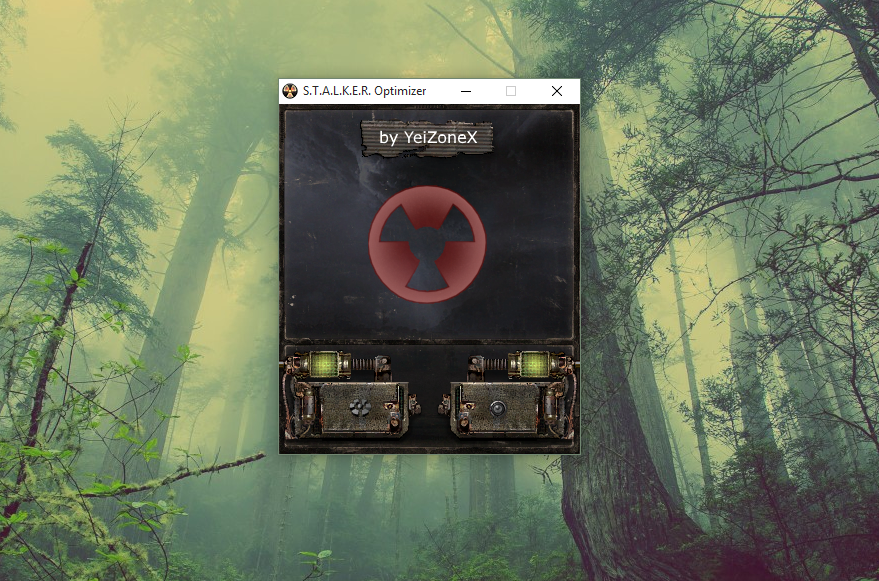 The Optimizer will feature a brand new GUI, far more attractive than the previous interface. Each item will have its info box to let the user know what does each button do, things will be kept in the simplest way possible both to provide a harass-free experience and to keep the resources consumption to the minimum, while providing rich features and good-looking forms.
- Added flexibility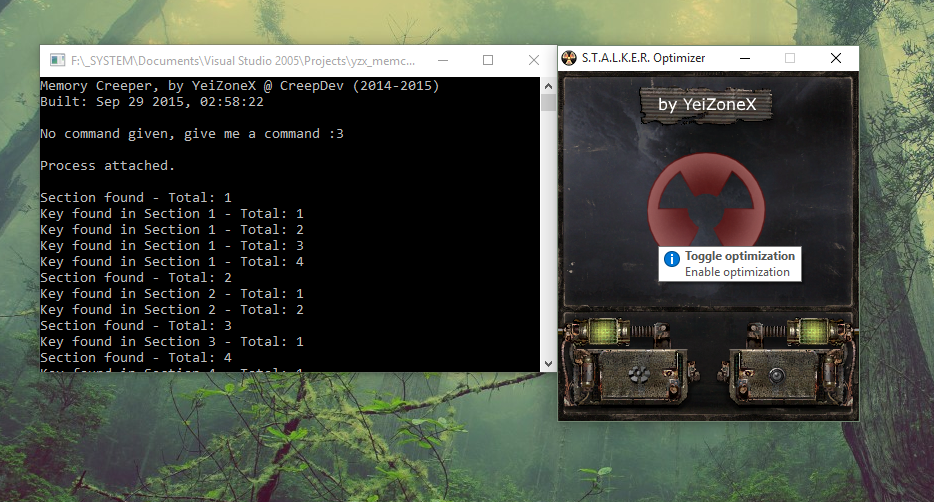 While the main purpose of this tool was reducing the chances to get memory leaks and related CTDs with X-Ray Engine (S.T.A.L.K.E.R. games), I had another idea... a console to make this tool work for any process. With this full-flexible console, the tool will work for any process with three defined actions: DIRECT OPTIMIZATION, MONITORING, and TERMINATING. These integrated functions will allow the tool to optimize a process once, monitor a process and optimize it each interval of time, or force the termination of a process. BUT, as you may have noticed, this flexibility brings downsides. Many malicious users might use this tool to cause memory related malware like worms, or CPU hogging malware, and that is why I intend to keep the tool hard-coded.
What I mean is, while the tool will be able to assist ANY game in memory duties, I will NOT let the user access directly to the console to avoid issues. So if you want your favorite game in the next version's (not 1.0, but 2.0) list then just leave a comment with the name of the game or PM me about it and I will add it.
That said, I will include that from the next version (not 1.0, but 2.0) and on, the tool will be called "Memo Creeper" and will be fully flexible to support any process without issues.
List of new features -> S.T.A.L.K.E.R. Optimizer 1.0:
- Brand new interface.
- Internal code fully optimized
- Console based tasks for optimizing, monitoring or terminating processes
- Full integration with S.T.A.L.K.E.R. Engine (X-Ray) (via scripting)
Coming features -> Memo Creeper 2.0:
- Multi-purpose optimizer, with support for variety of games/engines
- Memory leaks recognition for internally listed games
- Automatic detection and termination of hanged games
- MAYBE a restricted version of the console to allow the user use it on other processes (with restricted I mean locked for certain processes and cut off from certain aspects)
- Detection of virtual memory addressed by process (and automatic optimization, if possible)
- Memory lock for unstable engines (good ol' X-Ray cited again, but also others like Source...if you played Vampires - The Masquerade Bloodlines you'll understand what I'm talking 'bout)
Don't forget to leave your opinion in the comments, and feel free to speak any suggestions out loud, Stalkers.
Regards, YeiZoneX @ CreepDev -> a group led by giant rabbits and brown unicorns with no horns.