S.T.A.L.K.E.R. Call of Pripyat: Redux
Conversation Contest
---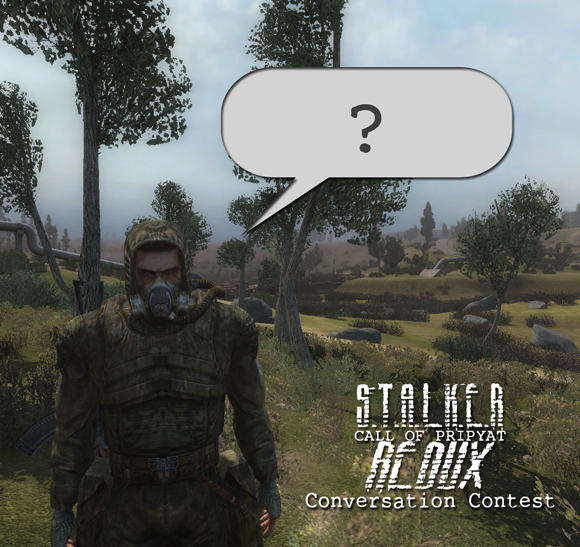 ---
Announcing the very first Call of Pripyat: Redux competition - the Conversation Contest!
Up for grabs are THREE early-access beta keys for v1.0 (and more) and it couldn't be easier to win!
How can I get my grubby mitts on these fabulous prizes, I hear you cry?
Simple!
One of S.T.A.L.K.E.R.s greatest assets is the interesting and engrossing story it tells of the Zone and its wonders and horrors. Tales of heroes, villains, anomalies and mutants make their way across the Zone, passed from the tongue of one S.T.A.L.K.E.R. to another. Your task is to create one of these tales, a story that will grip the player and make them think more deeply about the Zone they inhabit.
And so, your mission is to come up with an interesting story, the likes of which you're told by fellow S.T.A.L.K.E.R.s when you ask them 'What's new in the Zone?'
Your story could be about a location in the Zone, a character, rumour/legend, almost anything you want - let your imagination run rampage.
If you have a preference, please specify which faction will tell your story.
So what's up for grabs? Well, if you're one of the three people whose entries are judged the best of the bunch, your story will be guaranteed to feature in Redux, you'll receive a key for use in the future Redux v1.0 Closed Beta, as well as the privilege of having your name in the game (if you want it)!
So, get those creative juices flowing! Send entries to CoPRedux@googlemail.com - you have until midnight, June 10th!
---
Summary:
Win one of three v1.0 beta keys!
Write a story up to 250 words long involving the Zone, as told by a S.T.A.L.K.E.R.
If you want, specify which faction should tell your story.
Send entries to CoPRedux@googlemail.com before midnight, June 10th with the subject; "Conversation Contest"
---
Contest Rules / Terms and Conditions:
1: Your entry must be received no later than Midnight, June 10th (I.E the night of the 9th).
2: Your entry must be up to or exactly 250 words long.
3: Your entry must not contain racist, hateful, homophobic content or any comments of that nature. Swearing is fine.
4: You may enter as many times as you like.
5: By submitting an entry you consent to your work, ideas or content being used in CoP: Redux.
6: If you win, your entry may be altered slightly (grammar, spelling etc) before inclusion in Redux.
7: The top three entries as judged by me will receive beta keys for the v1.0 Closed Beta of Redux, and the creator will have the opportunity to submit a name of their choice for use for a character in Redux.
Good Luck, and have fun!
- Beacon
Creator of Call of Pripyat: Redux
---