What our life really is? Most people seem to be original, initiative, trying to invent various creative things, being businessmen, artists, poets seeking for something that would distinguish them from grey crowd of idle bodies.
But what if this just doesn't work this way. Normally we live to die in several (dozens) years, leave nothing but a grey square on the ground. Our life is a choice which is made without us.
The only thing we can is sliding between various shades of grey that appears to be lighter at the particular moment.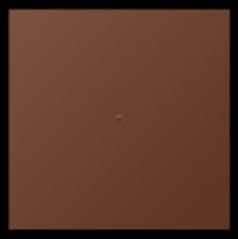 What can you see on this picture above, for instance? A square with brown gradient and a pixelize dot in the center? Indeed
This is the most accurate and understandable model of our life as children. This is your playground, the land of opportunity so many people are dreaming of.
The dot has an enourmous amount of free space around, it can choose any way to go. But usually we choose one. Is it our own choice or inspired by other dots that stand for parents, friends, teachers, politicians?
You may feel free to navigate round this square, but you'll never go beyond the black frame. And you'll never know if anyone managed to cross it.
By being a good guy, polite and diligent, graduated from fashionable and respectful university you would tend to stand on whiter parts of the square. As a contrast to murderers, uneducated bastards and morons that would always
be around you, be next to you in the streets, be next to you withing the square...
SQUASTINY (2018) is a 2D Psychologic Postapocalyptic Survival Indie with elements of quest and strategy about our life and the inevitability of its predictable ending. We are all guided towards it by someone. How could we be sure that this someone is not a person behind the black frame?
The game is to be released on mobile devices, powered by Google Android and Apple iOS and is planning to have a Standalone PC version with the help of Valve (R) Steam Greenlight.