On the first month of our release we're expecting to get absolutely pounded by new users trying us out. Squads should be preparing right away for the on boarding of new users. We'll also cover understanding that WWII Online is a subscription based game and not micro-transactions or the standard Free to Play type game. And finally, our development cycle to deploy on Steam is getting close to completion. Friday Update audio recording from "Xoom" (click here).
SQUADS AND RECRUITMENT
We're encouraging all squads to get together as soon as possible to rally up and organize themselves as we prepare for Steam. Squads being strong and ready to bring on and train new users will result into your squads growing much larger and increasing the size of battles overall. This is a massively important thing for squads to do and it is directly related to the success of the Steam release initiative.
BADGER is leading an effort to consider new ways to increase squad visibility outside of the game via our web pages as well. Stay tuned for more details here.
ENABLE YOUR RECRUITER FLAGS - ASAP!
Already there are lots of new users coming in to get a head start and try out the game. By enabling your recruiter flag (check your Squads tab) you will be visible on our Squad Recruitment interface immediately after someone selects their persona (pictured below):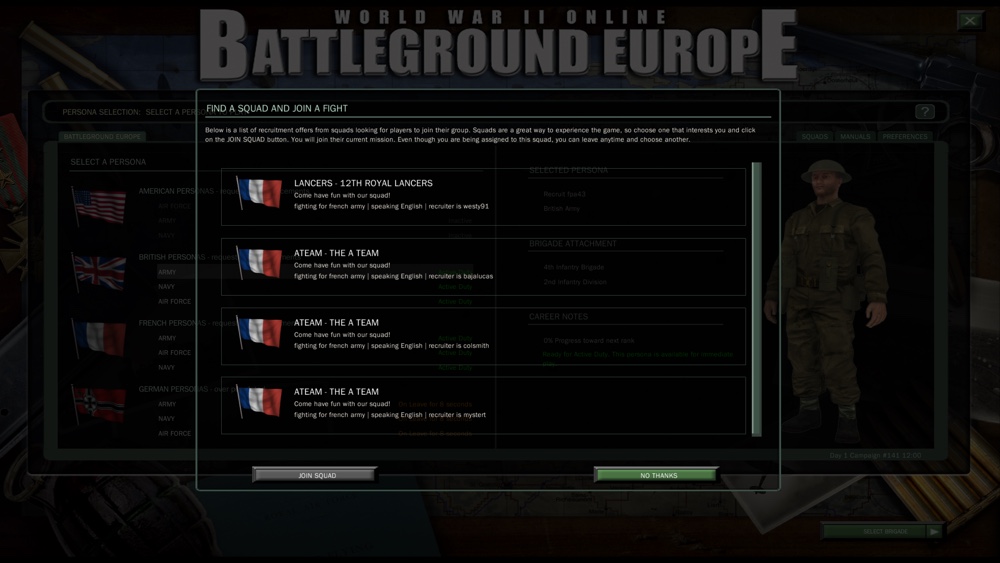 STEAM RELEASE CANDIDATE
At our current rate we'll be able to have our Steam release candidate ready for intense testing this coming week. This includes all of the changes that have been tested and fixed, wrapped up and ready to go for final approval. Which sets us to be on target as we have estimated for Summer of 2017 release on Steam.
Please note: This does not mean we will be releasing next week. We will keep you informed of our release date and give you as much advance notice as possible.
FREE PLAY ACCOUNT / SUBSCRIPTION
World War II Online is and always has been a subscription based game. Our new players coming through Steam need to know that there's a fundamental difference in what we're offering as compared to today's typical "Free to Play (F2P)" type model.
To get right to it, we do not offer micro-transactions; in-game currency system, and you won't be nickel or dime'd to death just to select your weapon and play.
What we do offer is fair game play with no item buys that gives you an advantage over another player; massive game play battle zones with hundreds of players interacting on the land / air / sea together in a single battle, advanced historically accurate damage modeling, a mature and helpful community, a pathway to try the game absolutely risk / money free and a whole lot more.
For your first two weeks you can play the game like a premium subscriber and be introduced to the entire game in the best possible way, for no commitment or money down. And if you decide you never want to subscribe, there's an option for you to play an integral part in the capturing of territory, and movement of supplies or equipment. You will still be able to join squads and participate in missions, communicate on the forums and in-game chat, we'll track your statistics and you'll continue to be able to play the game endlessly with the equipment set we've provided.
WWII Online is a massively multiplayer online game, with a lot of supporting infrastructure / services, and our staff is from all across the world that we have to take care of. As we are the definition of an indie studio we've made very careful considerations about how we're deploying on Steam, and we're consistently evaluating feedback to make sure we're still on par.
We hope that you'll enlist and see why WWII Online has been around for over 16 years, and hopefully fall in love with the game as we have.
We welcome questions or feedback, please be as constructive as you can and we'll take all matters into consideration.
Salute!
- Cornered Rat Software