At this early stage of development, we chose to use the same system as in our prototype : blocs. If in the prototype, blocs were just 2D tiles, they're now 3D blocs as you can see in this screenshot :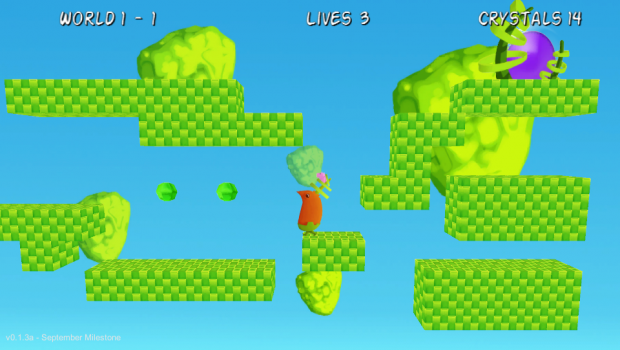 This choice made it easier to get the initial gameplay work in Unity.
As you may have seen in previous articles, the first world is Tree Dream. This world is filled with... trees! Sprouty starts at the bottom of this kind of forest. That's a wild place, with a lot of vegetation. By crossing the different levels, Sprouty will climb to the top of the forest to reach the next world : Cloud Dream. We had to find a way to express that feeling of getting higher and higher, from basement to treetops.
The goal was to create a parallax effect for the background showing the forest's depth. Different layers showing trees and some foliage. We got our first background assets for the 15 levels of Tree Dream and...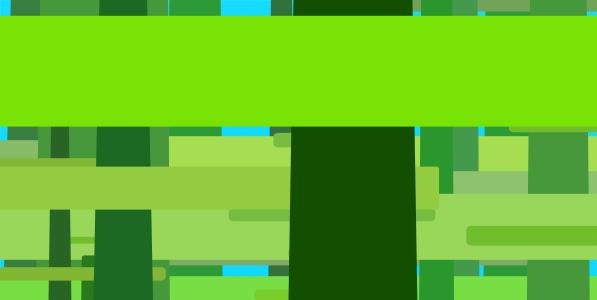 To be honest, that's crappy. Even our illustrator which did those drawings said that it was "completely messy and not colorful at all". The good point on this is that we all agreed with him in the team. Haha! :-)
That's prototyping. Some are good some are not.
We kept the concept of a parallax background but completely reworked the overall design. And we have something really nice now but we cannot show it for now (sorry!). Those modifications will imply big changes in the core and it is not ready at all. We could just show some artworks but... let's keep some mystery around this point for a few weeks. Just one thing about that : that's stunning.
We can at least show the new design of Sprouty. He's now smaller, rounder, and the tree on his head is now some kind of bulb. This one is quite more cute than before isn't it? Here are some work on the jump animation with the new design :

Don't forget to watch the project to show us your support! See you next week.
Cheers!