Sportsball Party is now Party Animals with the creation of these four guys: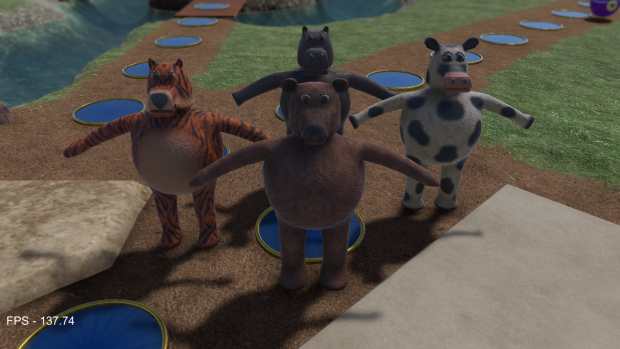 I have varying degrees of satisfaction with the character models. I think the cow looks adorable. The hippo looks pretty much like I wanted it to. The bear is on its third iteration and still looks too much like a teddy bear at some angles. The tiger is in its second iteration and also looks off in some angles.
The animals have spherical bodies because they morph into balls to keep the mechanic of the game going. The morphing is animated and will be shown in a video at some point.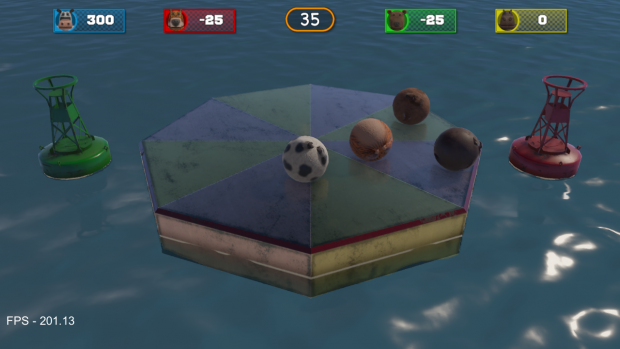 Here you can see them in their morphed state playing the Bumper Balls game. As I add more animals, I'm hoping to create some that aren't fur based so the variation in materials can be similar to what that of the sports balls where.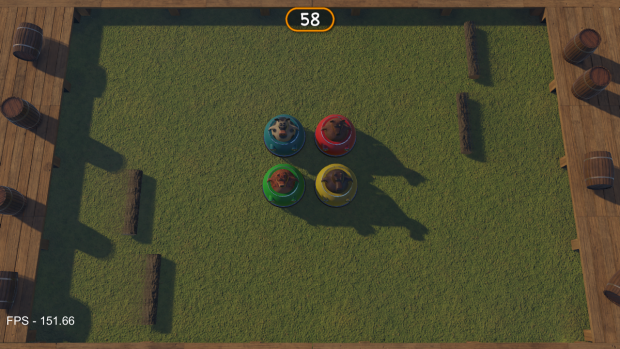 The animals won't always fully morph into a ball. Sometimes, they may not morph at all. Here there are in Log Stampede with their heads still visible and their arms only partially morphed. The heads look around as they are moving, but I hope to improve that further when the AI is in. I want them to look at nearby players if they are close enough and at an appropriate angle.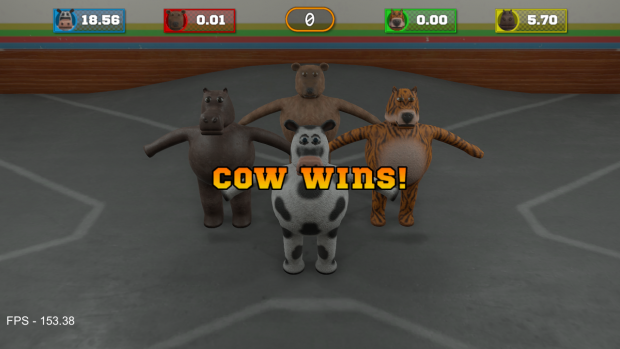 In addition to the characters there is now an animated camera intro for each mini-game that will also be shown in a future video. Shown in the screenshot above is the new ending for the mini-games. I wasn't happy at all with the simple bouncing ball. Adding characters helped a lot because they can unmorph. But the camera also moves to a new position, which really adds to the visuals. I didn't notice until posting this screenshot that the hippo and the tiger are floating above the ground. That will be fixed.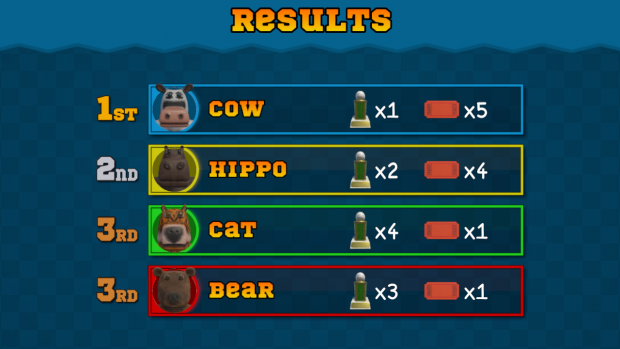 The final screenshot shows the new icons for the characters in the results page. I'll eventually be giving the animals actual names, or at the very least call the tiger a tiger instead of a cat.
I'm really interested in opinions on these characters. I think they'll add a cartoony charm that wasn't there with the balls.