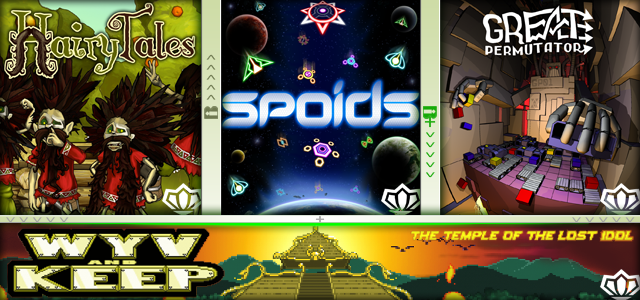 Looking for four awesome indie games at a great price? Well, IndieBundle.org has just released the Perilous Puzzle Bundle which includes Spoids, Hairy Tales, and Great Permutator all for $5. And if you grab the Bundle+ for just $2 more, you get the much anticipated Wyv And Keep: The Temple of the Lost Idol. $25 worth of indie games for just $7!
Each game is redeemed on Desura and all four come with the Steam Greenlight Guarantee (if the game is released on Steam, you will receive a free download key for Steam).
Spoids:

As the commander of the Defense Space Station, respond to distress calls and travel from planet to planet using your powerful arsenal to buy enough time to complete each mission. With the unique objective based system, Spoids offers a challenge for all levels of ability.There are hours of gameplay including the story missions, unlimited wave mode, four medals to unlock at each planet, and a host of enemy and weapon types to master. Each mission is completely voice acted by a set of memorable characters that need your help.
Hairy Tales:
A "fiendishly difficult" puzzle/action game that has been praised for its creativity and multiple solutions, Hairy Tales combines tile-dragging mechanics with fast furious action. It's inspired by ChuChu Rocket and Lemmings, and tells the zany adventures of a group of not too bright folk spirits, as you help them puzzle out evil conundrums in their mission to save their tile-based world from sickening corruption.
Great Permutator:
Just a puzzle. Hard and tricky. You should build a complex system of conveyors and action blocks to move colored boxes in right order. If you like clever engineering puzzles like LightBot, Manufactoria and SpaceChem, you should like this game.
(Bundle+) Wyv And Keep: The Temple of the Lost Idol:
Wyv and Keep is a grid-based action/puzzle game following two young treasure hunters into the land of Amazonia. Take control of the duo and use teamwork to solve mind-bending puzzles, navigate challenging action sequences, and find hidden riches deep within an ancient temple. Play by yourself, with a friend locally on one keyboard, or online, dodging fiendish traps, evading cannibalistic pygmies, shopping for hats, and even exploring an active volcano. Even create and share your own puzzles with the included cartographer.
Act quickly as this bundle will only be available for 6 weeks! IndieBundle.org