What Are Spirit Animals?
Spirit Animals are magical manifestations of one of the planet's fauna. They can be conjured by the ethereal Creator Spirit to allow them a physical presence on the ground. The manifestation process takes a large toll on the Creator's power so the Spirit Animal's presence can only be maintained for a relatively short period of time.
There are currently six Spirit Animals in Lithic, each one inspired by a different personality extreme. Alongside being a powerful physical tool, the Spirit Animal you select affects your tribe's personality traits and also grants the Creator Spirit access to a unique spell to add to his arsenal of elemental abilities.
Spirit Animals in Detail
The following section covers each Spirit Animal in detail, describing their physical traits and passive affect on your Tribe along with their currently planned unique spell. There's also a bit of detail as to where the creature's inspiration comes from, as the animals in Lithic are inspired by real creatures taken from Earth's past!
Gurstoss
The Gurstoss is a monstrous creature, standing around 6ft(1.8m) tall at the shoulder. At the forefront of its stout body, The Gurstoss' skull is a battering ram of great proportion which is used at the apex of a charge to bowl prey over for an easy kill. The Gurstoss is inspired by Earth's Daeodon Shoshonensis, a plains hunter from the Oligocene period.
Passive Ability:
Rage: Your tribe gains a bonus to their aggression, making them more likely to attack their foes instead of fleeing.
Spell:
Bolster Strength: Target Tribe-member gains a temporary strength bonus, granting them increased damage in combat.
Melghwer
The Melghwer is currently the largest creature in Lithic, reaching up to 6 metres long. Its passive nature and herbivorous diet combined with its immense size make for a powerhouse of a being, with very few predators capable of damaging it. The Melghwer is inspired by Earth's Megatherium, from the Pliocene period.
Passive Ability:
Tranquillity: Your tribe is more passive, reducing their chances of attacking other tribes they meet unnecessarily.
Spell:
Thicken Hide: Target Tribe-member gains extremely tough skin, reducing their chances of injury for a time.
Nehken
The Nehken is an ambush predator, silently stalking prey then striking at an opportune moment - pinning the unsuspecting animal and piercing the throat with a well place bite from its huge canines. The Nehken is based on the Smilodon Populator, a large cat that died out about 10,000 years ago at the beginning of the Holocene period.
Passive Ability:
Pride: Your tribe is granted a bonus to it's pride, bolstering their morale in combat and reducing their chance of fleeing from their foes.
Spell:
Silent Predator: Target Tribe-member gains a large bonus to their Sneak skill, rendering them much more difficult to spot or hear.
Bhaso
The Bhaso is a large bird, standing at two feet from beak to tail-tip. An omnivorous scavenger, it lives in large flocks for mutual protection. Smart and swift, the Bhaso is particularly good at escaping dangerous situations. The Bhaso is based on the Thick-Billed Raven, the only creature referenced here that is extant and thrives in certain parts of eastern Africa.
Passive Ability:
Self-preservation: Your tribe has increased selfishness, making them more likely to protect themselves instead of attempting to fruitlessly assist doomed tribe-members.
Spell:
Clarity: Increases a Tribe-members Intellect for a period of time, granting them bonuses to a number of skills including teaching and learning.
Karawar
The Karawar is a social creature, living in herds and migrating across continents. It is a complacent creature, happy to just exist - however, when a herd does become enraged, their long, frontal facing horns make a deadly weapon combined with a stampeding charge. The Karawar is based on the Aurochs, a bovine species which became extinct relatively recently.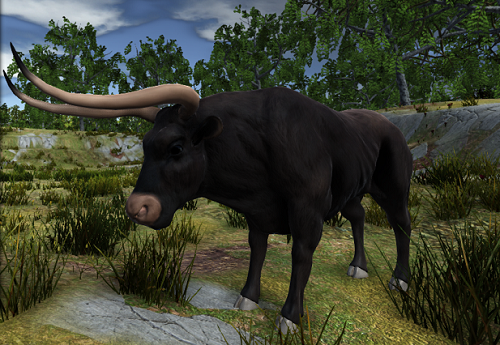 Passive Ability:
Complacency: Your Tribe gains a passive bonus to Demureness, increasing its chances of backing down in the face of peril and reducing the chances that your Tribe-members will take careless risks.
Spell:
Stampede: Target party gains greatly increased morale and aggression for a period of time.
Waylarth
The Waylarth is an intelligent pack hunter, working with others to bring down prey it normally wouldn't stand a hope of successfully attacking alone. No small animal, the Waylarth can reach 2.5 meters (8ft) in length, making it both a powerful and cunning creature. The Waylarth is based on the Amphicyon, a group of species commonly know as "bear-dogs" which lived between 17 - 2.5 million years ago.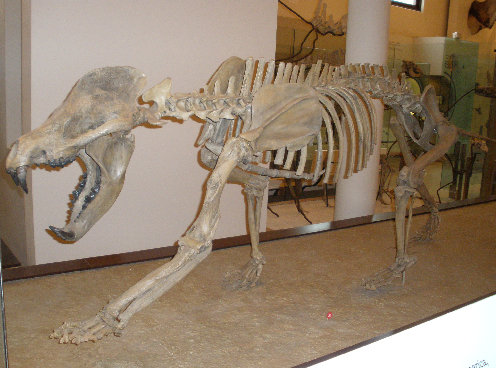 We haven't got a model yet but here's a Amphicyon skeleton
Passive Ability:
Pack-Mentality: Your tribe is granted a bonus to their selflessness, making them more likely to help others survive and protect them in dangerous situations.
Spell:
On the Scent: Target Tribe-member has greatly increased perception for a long period of time.
We'd love to know which Spirit Animal you'd choose so head over to our Forum and join the discussion. If you want to support Lithic then please vote for it on Steam Greenlight.