As this mod is now more heavily based on the famous star wars battles, we felt it is important to make sure we have the key components of star wars, one of them being the epic star wars vehicles such as the spider walker and the clones AT-TE.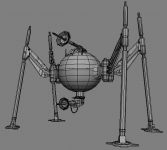 The vehicles in the mod are all going to have interesting sequences and random deaths where they could be rip t in half by a rocket or just shut down and collapse on to helpless troops below. Another element to their deaths are that if the vehicle is heavily damaged you are going to want to get the hell away from it, as you don't know what could happen
Im going to try and get some simulations made within the next 3 weeks so keep your eyes pealed.